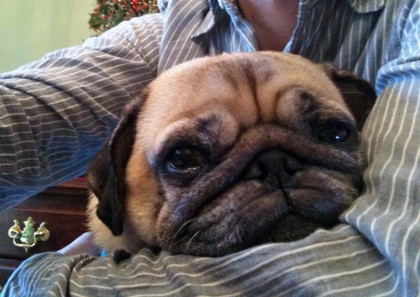 It sure has gotten cold here. Luckily, Sid makes a pretty good heat source and he's decided that after lunch is the time to sit on my lap to keep me warm. While I appreciate the gesture (and the warmth), this happens to be the time when I'm WORKING. I'm not sure what the people on the phone make of the various snorts and grunts they surely hear in the background.
Sid's actually got an exciting week in store as he will be under the watchful eye of his grandpugrents. I'm sure he's going to pull out all the stops in re: his special moves to obtain treats. Most people cannot resist when a pug flashes "the pathetic look" their way, ESPECIALLY grandpugrents. We might as well say goodbye now to his waistline.
Hope you all have a great week and we'll catch up with you soon!