Body Pillows
Sid's all about body pillows. And I don't mean those oversized pillows you can buy at Target. I mean USING bodies AS pillows. Specifically OUR bodies.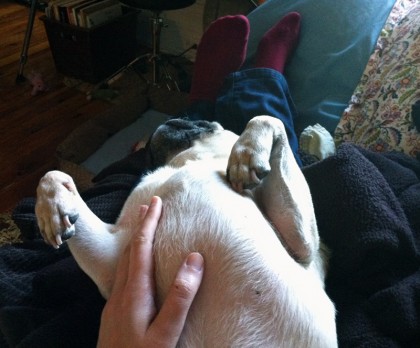 Sid plays no favorites. He uses his mom's body as often as he does my own.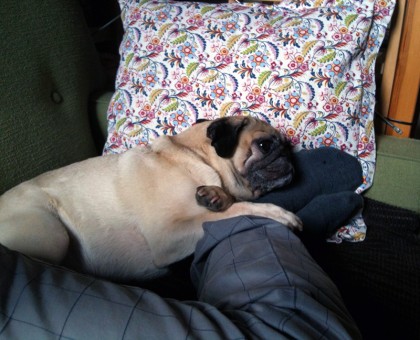 In this photo, our pug-genius demonstrates his solution to the age-old problem of side-sleepers: how to prevent that bottom arm from going numb. Way to go, Sid!
Have a great weekend everyone!
—
Pug Portraits update: Thank you to those of you that ordered pug portraits. I just want to let you know I have a few of them done and will be shipping them out this weekend. I'm sorry for the delay – I was waiting on the mats to arrive and also had to make an impromptu trip back to Chicago for a week due to some family stuff. The mats just came in this week and they look really nice! If you did place an order, I will email you when your order ships. I'd like to post the portraits on the blog so if you've ordered a portrait already and would be ok with me posting it on the blog, please let me know (you can just send an email to pugportraits (at) pugslope.com). I will hold off posting any photos of your portrait until I hear from you. –Brian