Sid vs. The Carrot
Sid had a great weekend with his extended family in Massachusetts (more on that tomorrow) and to reward him for his good behavior while he was there we got him a treat. Not just any treat – this was something entirely new. Sid has had his fair share of baby carrots – rather than chew them he prefers to just swallow them whole making us wonder if he evens realizes when he has just eaten one. We decided it was time to up the ante…
"Ladies and gentlemen, on the left side of the ring/bed, hailing from Brooklyn, New York, weighing in at 21 lbs, and wearing the striped collar – Siddddddddhartha Lamonnnnnnt!"
"And on the right, hailing from Cohasset, Massachusetts, weighing in at 2 and a half ounces, and wearing orange – the Carrrrrrrrrrot!"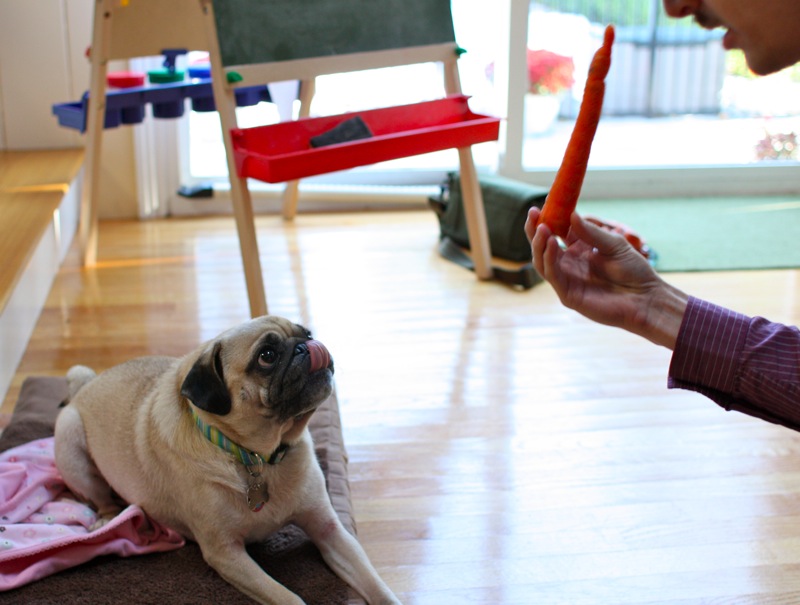 The crowd waited with anticipation for the bell to start round one…
DING!
At first, Sid was perplexed. He knew the Carrot was his foe, but did not understand how he was supposed to attack something that he could not swallow whole. Although Sid tried to get a firm grip, the slender Carrot definitely had the advantage and quickly slipped away.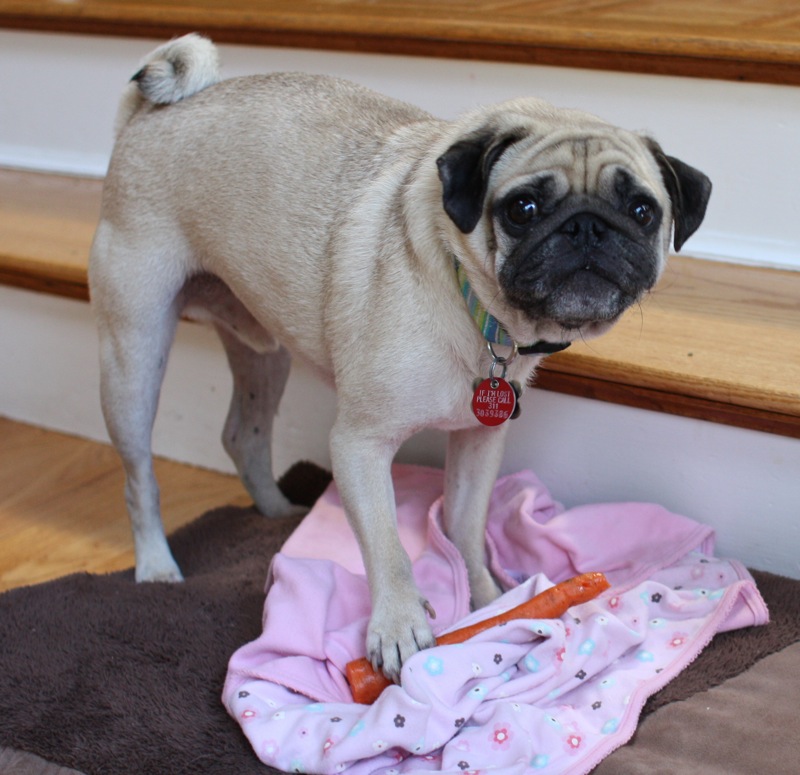 Both opponents headed to their corners. Sid was clearly confused and the Carrot was still standing tall, with only a tiny flesh wound.
~ Round Two ~
Wait for it…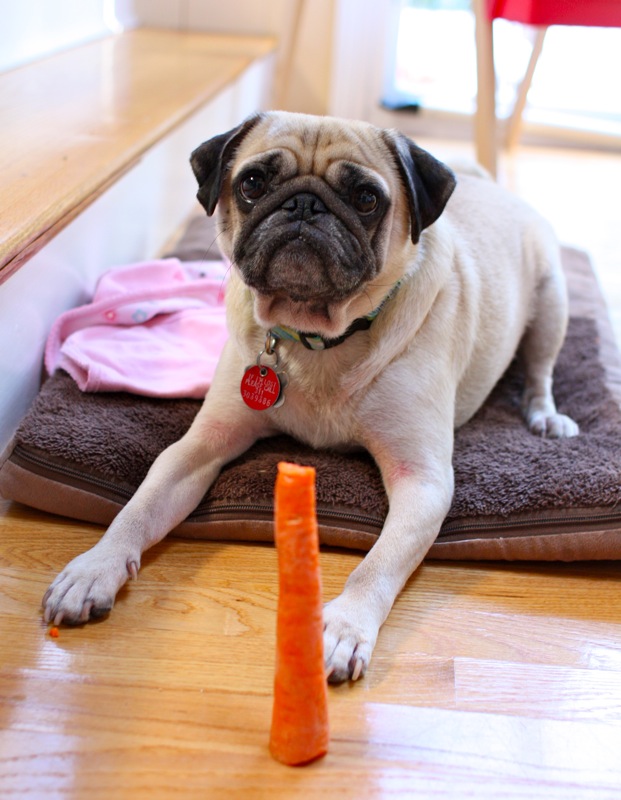 DING!
Sid came in strong. He knew if he was going to win he'd have to break the Carrot down – literally. A bite from the left…then from the right…the Carrot, now half his original size, ducked and fled towards his corner.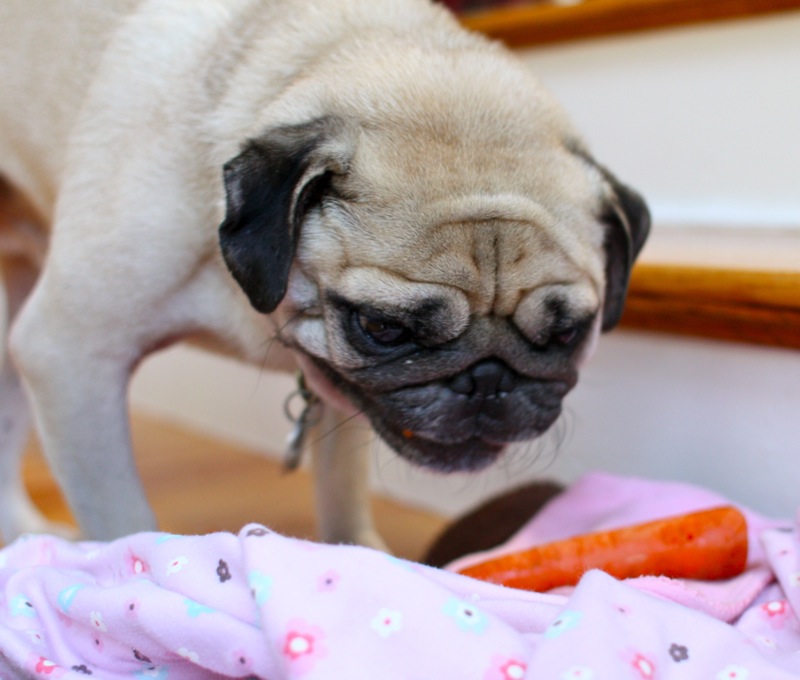 As the end of round two was drawing near, the Carrot was swaying from side-to-side. Sid's dodging and weaving technique left him short of breath – he couldn't last much longer. It was now or never. He let loose his final all-or-nothing move…the MONSTER CHOMP!!!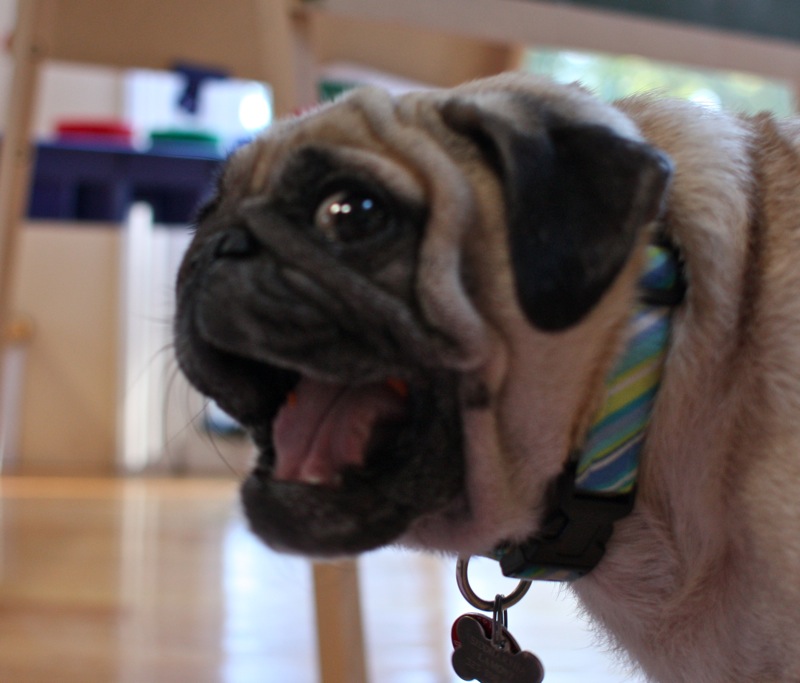 The Carrot didn't stand a chance. He was down for the count. One…two…three!
"We have a winner folks – the little underdog from Brooklyn, Siddhartha Lamont!"