Halloween is just a big tease. Humans everywhere, especially the tiny ones that poke at your eyes and try to grab your tail are practically DROWNING in treats. But what have I got? Just a photo of myself in a costume that's a bit too snug in certain areas (memo to self: have Dad let out waist of Halloween costume).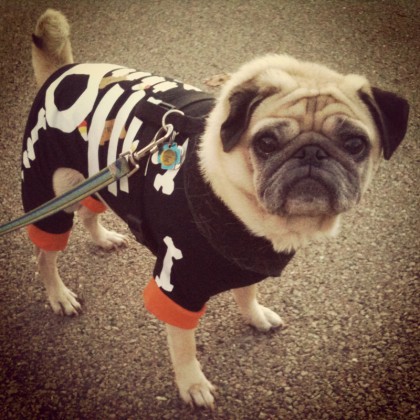 My Dad brought home this gigantic bag of Monster Munch. I mean the stuff sounds amazing, right? Plus it's made of potatoes which I'm pretty sure I can eat. However, he ate the ENTIRE BAG HIMSELF! I didn't get to try even ONE FLIPPIN' MUNCH!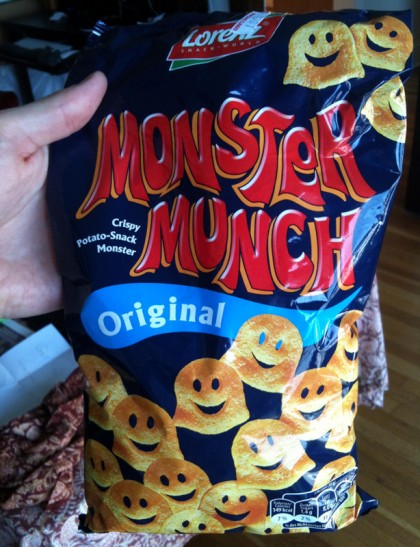 This is outrageous.
Since it's been raining all day today, I thought it'd be the perfect day to stage a Poop Strike. What's a Poop Strike you ask? Oh, why it's only the BEST WAY TO GET BACK AT YOUR HUMAN FOR SWINDLING YOU OUT OF YOUR FAIR SHARE OF MONSTER MUNCH. I'm going to make sure it's raining hard when we go out for our evening walk. And then we'll walk and walk and walk some more. By this point my Dad will be SOAKED TO THE BONE. And guess what I'm NOT going to do? Yep. Poop. It's the sure way to drive a human bonkers. If any of you other pugs out there got the shaft this Halloween I suggest you do the same. And if you DID get TONS OF TREATS, maybe you could, you know, mail me some? Pretty please?