Delmonte Lake Adventure (Part II)
Hope everyone had a great 4th of July. Sid wasn't a huge fan of the fireworks, but luckily they subsided by midnight so we could get some shut-eye.
As promised, we have footage of Sid taking a dip…
But first, a little more about our trip to Delmonte Lake. Before actually going into the water, Sid got to ride on a paddle boat which included a hand-held umbrella to keep him cool.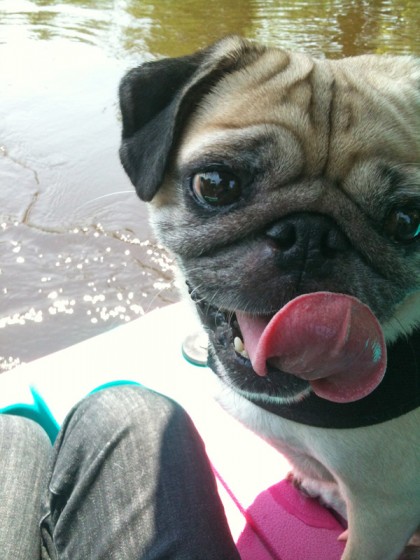 I'm not sure if he even realized that he was riding on an actual boat – he seemed pretty excited just watching the wake from the rudder.
We also got to spend lots of time relaxing and playing potato catch.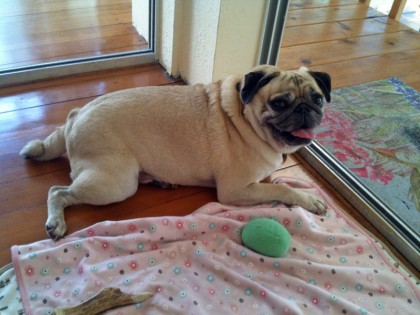 Sid's favorite hang-out spot was definitely the kitchen. I think he was hoping that he might procure an extra snack or two from one of the other people staying at the house that aren't as accustomed to his "manipulate-the-humans-by-cuteness-to-get-treats" skills.
And now for what you've all been waiting for…THE SWIMMING!
I'm so proud of my little pug! He did so well in the water! I guess pugs do have more in common with the walrus than just the face. Unfortunately, I don't have any footage from the next day when he did some more swimming and actually did a few laps WITHOUT his neon-green floatie. He didn't seem to have any problems swimming without the floatie – so maybe they exist not so much for the dog's sake but for the over-protective paranoid human's sake.
Sid had a great time at the lake house and he would like to thank our friends Anna & Andrew for taking him on such a fun adventure!
Tags: adventure, Delmonte Lake, lake, road trips, Sid, swimming