F-F-Frrrrreeezing!
HAPPY NEW YEAR, EVERYONE!
Starting New Year's Eve, Chicago (and pretty much everywhere else) got bombarded with snow for 48-hours straight!
Sid's been such a trooper through all this, and even though he was born and bred in Southern California, he's been bucking up and going outside in the frigid January air to do his business. We've been forced to stick to brief walks – basically to the front of the apartment building or to the backyard.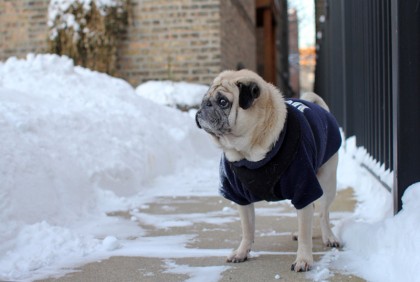 Thank goodness for our awesome landlords (and most of our neighbors) who shoveled the sidewalk immaculately, otherwise I'm sure I'd have a full-fledged poop strike on my hands.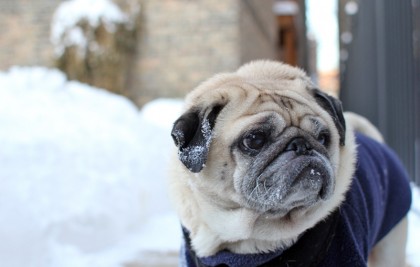 Sid wanted to do an "artistic" photo to show his feelings about these brutal temperatures. He happens to be doing his famed "Tripod" in this one. Don't worry, though, he got a top-notch paw-warming by yours truly immediately after the photo was taken. STAY WARM, PEOPLE (AND PUGS)!