PUG POOL PARTY!
OHMYGOSH – I don't even know where to begin. Well, how about at the beginning.
This past Sunday, my normal late-morning snooze was interrupted by the sound of my travel bag tumbling from the closet shelf to the floor. My dad was flying around the apartment gathering up a bunch of things including a beach towel, sunscreen, my portable water dish, and a bag of treats. I figured we were heading out to the Foster dog beach. But then we got on the El train which was weird because we usually would walk or take the bus to get to the dog beach. Where the heck were we going?
After about 45 minutes of traveling (which I don't mind at all since I was the recipient of a pretty steady stream of venison jerky treats the whole time), we arrived at a place called the Pet Care Plus "K-9 Oasis". I have to say, it looked pretty amazing.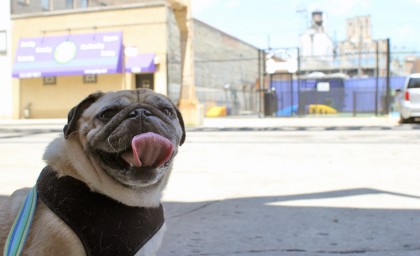 The Oasis had two huge sections: one where dogs could romp around on various platforms and beds, and another which was pretty much just one ENORMOUS DOG POOL!!!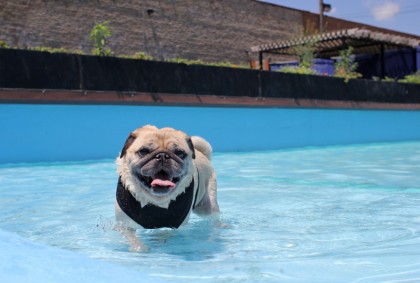 It was a hot and sunny day so I dove right in to cool off. Boy did that cool water feel great! As I started walking I noticed the water getting deeper – turns out the pool starts off shallow but gradually slopes down to a deep end.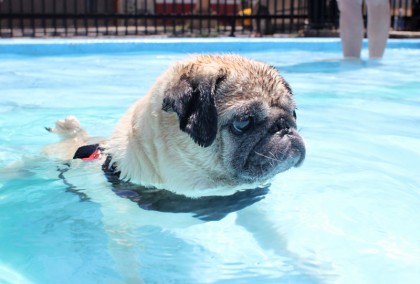 I enjoyed wading around the shallow end and sometimes venturing a little deeper so I could float a bit. My dad tried to encourage me to go into the deep end to try some swimming but I adamantly refused.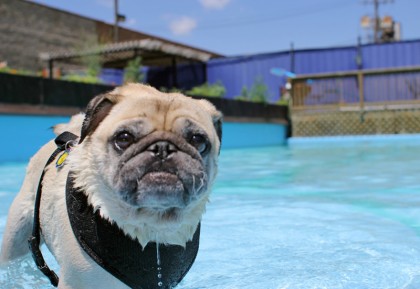 "DEEP END? Um, no way, dude – unless you're prepared with handfuls of treats."
Soon, I started to notice I was not alone. There was another pug hanging out in the pool.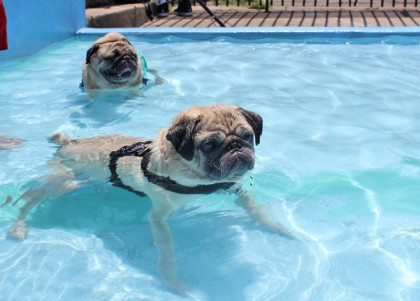 And then ANOTHER. A pug pool party was forming before my very eyes! SWEET!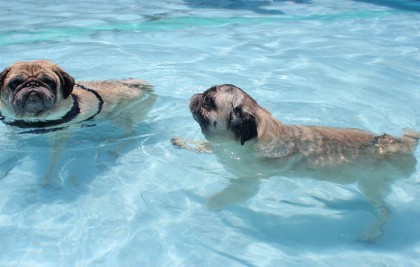 My dad explained that the Chicago Pug Meetup group had rented out the K-9 Oasis that day. So I guess he knew about this pug party all along but wanted it to be a surprise for me. Well, I certainly was pleased to meet so many cool pugs and have pug-obsessed humans fawning all over me.
One of the other humans brought this awesome pink ball and I was totally smitten with it. I couldn't stop batting it around with my paws or trying to catch it in my jaws.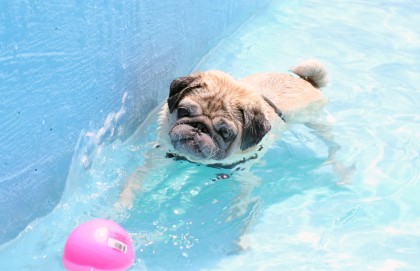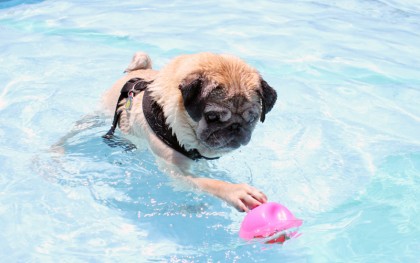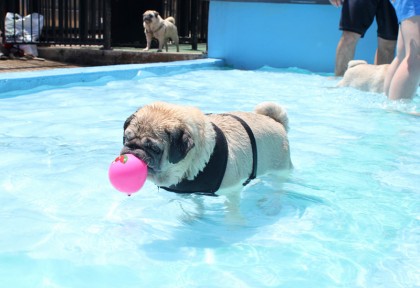 For some reason my dad couldn't stop laughing at my ball-catching technique. He even recorded a video of it. I don't think there was anything funny about it – I mean it works for sharks, right? And of course I made my dad go retrieve the ball when it started floating towards the deep end. I was not going to let my ears wet!
Sometimes I'd lose track of the ball and another pug would play with it for a while. That little pink ball was a hit, that's for sure.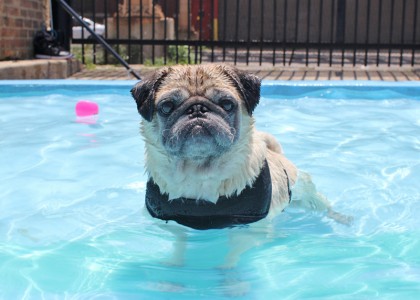 "Yo, anyone see a ball? Pink. Floaty. Perhaps with some pug teeth marks in it…"
I played in the water non-stop for over two hours, so by the end of the party I was starting to fade.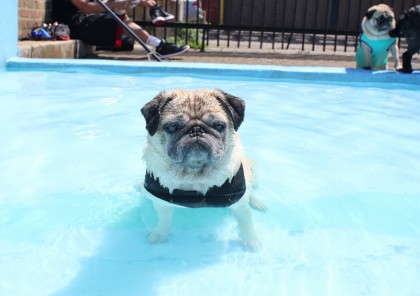 I had so much fun. Thank you to the Chicago Pug Meetup group for planning such a fun afternoon. I can't wait to to do it again! And to all you other pugs out there – if you have a dog pool in your town, BY ALL MEANS get your curly-tailed butt down there pronto! It's the best thing ever!
Tags: mayhem, pool party, pug love, Sid, Summer, swimming, toys