Pug Portraits!
I'm very excited about today's announcement. Due to the positive response, I'm going to be taking orders for hand-painted portraits of your very own pugs! I'm very excited about this project and appreciate all your positive and encouraging comments.
If you didn't see the previous post about the pug sketches, click here. Here's another example of some pug portraits that I did based on some photos from a pug magazine.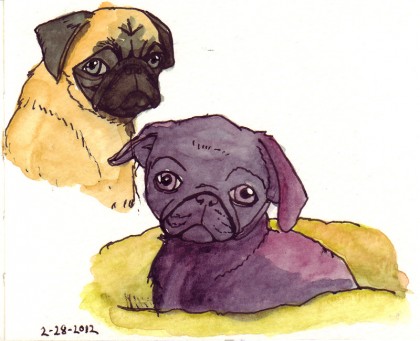 Here are the details:
Each portrait will be done in ink and watercolors.
I'm aiming for the image to be about 3-inches square.
The portrait will be unframed, but will come with an 8-in x 8-in matte to allow you to use whatever 8-in x 8-in frame you'd like. Of course you can cut down the matte to a smaller size if you'd like to use a smaller frame.
Each portrait will be $20 (matte and postage included).
Here's how to order:
Place your order by clicking the Buy Now button in the Pug Portraits area on the right-hand column of pugslope.com. This will take you to payal where you can use either your paypal account or a credit card if you don't have a paypal account (you do not have to sign up for paypal).
Email pugportraits@pugslope.com a good photo of your pug which you'd like the portrait to be based on. Please make sure the photo is in good focus, isn't blurry, and is in JPG format. If you also include a couple other reference photos, perhaps from other angles, it will allow me to capture your pug more accurately. Please include your name and your pug's name in the body of the email.
I'll email you when your pug portrait is complete and has been mailed.
Since this project will be done in my spare time, I'm not certain what the exact turnaround time will be. Three to four weeks would probably be the maximum time and, unless I get a bunch of orders at once, you can probably expect the turnaround time to be shorter.
If you are unhappy with your sketch, I will happily refund your payment or do a second portrait for you at no additional charge.
Most of the $20 will actually be covering the cost of the materials (paper, paints, ink, matte-board, etc.) and shipping. Any leftover money will be going to Sid, or rather Sid's vet, as he seems to enjoy getting in to some sort of mischief that lands him at the vet at least once a month.
Thank you in advance for your order!
Tags: drawings, pug portraits, Sid