Puttin' on My Top Hat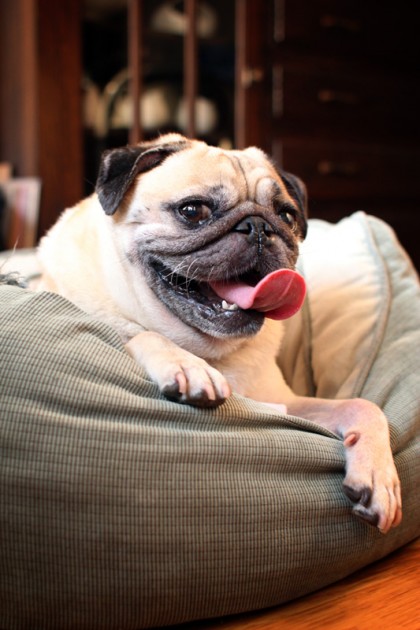 Hello all you beautiful Pug Slopers!
Sorry that it's been a while since you heard from me directly. As you know, I lead a pretty busy life so I usually delegate posting duty to my unpaid intern (aka "Brian" or "Dad"). Well, this time I'm typing with my very own paws. Notice, however that you're not hearing the usual tap-tap-tap…that's because I got my nails trimmed. See I am entertaining some special guests this weekend and I have to make sure I'm in top form.
My intern, er, Dad, is going away for the weekend to someplace with waterslides and go-karts and other things someone his age should have probably long outgrown. While he's away, I've got two awesome humans coming over to man the PugSlope Headquarters and administer my treats (they'll be taking me on walks, too, but let's be frank – treats are the numero uno priority-o). I want to make a good impression, so in addition to my nail trimming (technically "dremeling") I also got a full-service bath and all my beds were washed and dried (again, by my intern). Everything smells like coconuts.
I'll let you guys know what I get up to when my Pops returns. Let's just say I've got a feeling I'm going to be S-P-O-I-L-E-D!
Tags: bath, dremel, Sid, special guests, spoiled