Rampage!
Sid and I have been avoiding the computer as much as possible in an attempt to take advantage of the pleasant weather we've been having lately. After enduring this past winter, which seemed to go on forever, we have been savoring the sunshine as often as possible.
I'm still having a hard time coming to terms with the fact that it's already June. It seems like just a few weeks ago we were donning the puffy coats and fleece and bracing for a walk in the polar vortex. Well, anyway – I hope that helps explain why we've been a bit absent on the blog lately (and have been a bit lax visiting other blogs).
…
This weekend, Sid went on a rampage. It all started with the arrival of an enormous box with his name on it.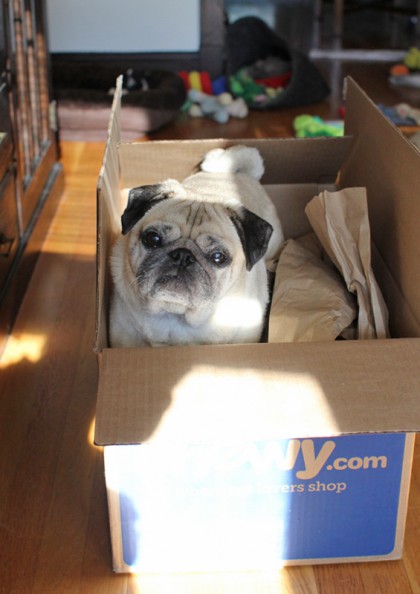 Yep, the UPS delivery person arrived with a gargantuan package from Sid's favorite online vendor, Mr. Chewy. I'm pretty sure Sid doesn't know how to read (he does know some basic spelling though, like T-R-E-A-T, S-N-A-C-K, and V-E-T) so I'm always impressed how he can instantly detect a cardboard box that contains dog food, treats, and nylabones. I suspect Mr. Chewy sprays their boxes with some kind of scent that drives dogs wild (Eau d' Beggin' Strips?). Or perhaps the shape and/or color of the logo on the side of the box was designed to stimulate the dog brain. Who knows. In any event as soon as the box was opened, he leapt inside and starting going nuts.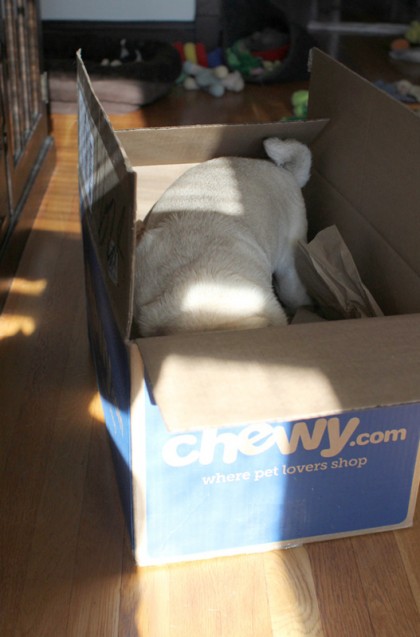 Stand back, people, I'm goin' in…
The rampage continued on over to his toy bin where he extracted every plush toy and distributed them around the entire apartment. It's kind of like how Disneyland is intentionally laid out so there is always a garbage can within reach. Sid applied that same concept to Pug Slope HQ, only that at any given moment he wanted to assure he'd be only a paws-length away from a plush toy.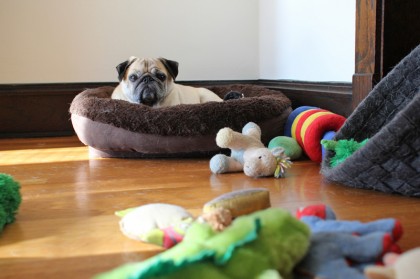 At least he decided to have a little rest after his rampage – while I was left to clean up the war path.