Go Where the Travel Bag Takes You
Let me start by saying that most of the time my dad is an okay dude, but he can also be a total bozo. Well, this weekend he must have been in bozo-mode because somehow he only managed to snap TWO photos of all the crazy adventures that occurred. So you'll have to use your imagination to fill in the rest. Actually that might be better because in your imagination there's like unlimited baby carrots, so you go ahead and imagine that first. OMP, all those baby carrots! Ok, now back to imagining the weekend adventures of Sid the Pug.
Here's what went down:
First, my dad got a rental car because we were going to be visiting my dad's sister in the 'burbs (it was her B-day this weekend). I love me a good road trip and this one, while not quite on par with a multi-day cross-country journey (which I've done TWICE now) this was still pretty fun.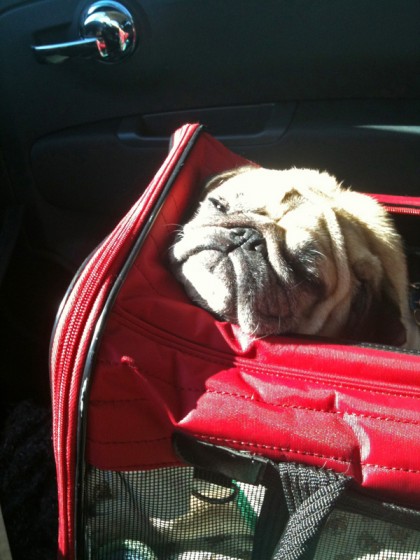 In order to prevent my luxurious fawn pug fur from getting all over the black interior of the car, dad made me ride in my travel bag – which I didn't mind one bit. I've ridden practically everywhere in that thing (buses, planes, trains, and even IKEA – more about that last one in a minute). It's a little tricky getting your head propped up in the most ideal way (why there is no bolster inside the bag is beyond my comprehension), but after attempting like 15 different positions I found one that worked.
When we arrived in the 'burbs, I got to go for a long walk with dad and my grandma in Bemis Woods. The weather was amazing – there was snow on the ground, the sun was shining brightly, and the temperature was mild. Even though we hiked for like an hour and a half, bozo only managed to get one photo: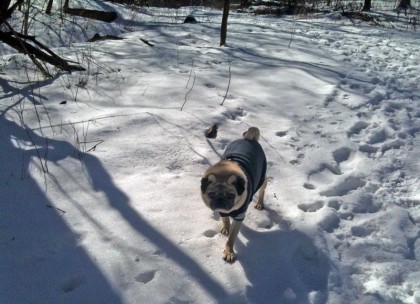 After the hike, I took a nap while dad, my aunt, and everyone else all went out to dinner. I was a little ticked that they didn't bring me along so I took a poop inside the house (that'll learn 'em not to bring me home leftovers!).
Dad and I started on our journey home but made a quick detour at a huge building called IKEA. I'm actually kinda glad there aren't any photos from this place because it was WEIRD and kinda freaked me out! They don't technically allow dogs inside so my dad thought he'd be covert and bring me inside in my travel bag since I guess it looks just like some normal bag that humans carry around their human junk in.
There must have been thousands of people inside this place. The mesh panels on my travel bag obscured my vision a bit, but I could still see all the people slowly walking in a line together through a maze of chairs, beds, and giant wooden things named "TOBO" and "LIATORP". The people were so busy looking at all that stuff that no one even noticed that there was a pug in their presence! Thank goodness dad knew exactly what he was picking up so we zipped through there pretty quickly.
I was happy to get back in the car, unzip the lid of my travel bag, and perch my head up top for a nice relaxing snooze on the ride home.
Tags: adventure, family, Ikea, Ma and Pa Demski, mischief, road trips, Sid