Someone Spoke Too Soon
Well folks…turns out Sid spoke a little too soon. His eye is still bothering him and when I took him to the vet yesterday to see what was up, it appeared that his little injury hasn't quite completely healed. Well, actually it likely did heal at some point but then when he rubbed or scratched his face he essentially un-did the healing. Ugh. So this is likely 100% my fault because I didn't subject him to 24-7 cone humiliation. See what happens when you cave in to "pug pressure"?!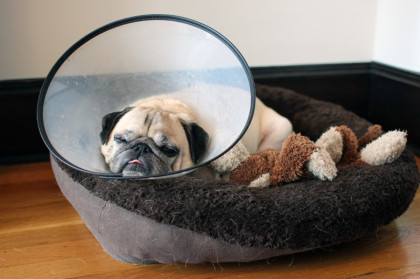 So now we are strictly adhering to the recommended round-the-clock conage and we're back to administering drops every four hours (that includes in the middle of the night! Perhaps my next post will be at 4am!).
Sid could use any good pug juju you could send his way. We want this little abrasion to heal up completely so he can get back to his normal cone-free existence. Thank you in advance.