Into The Blue
Hi everyone! Sid reporting. I'm so glad you're here today. I want to tell you about the insanely fun time I had last weekend. Now that I've had a few days to recuperate, I'm ready to tell you all about it.
Well, I first knew something was up when my dad starting digging around in the closet and out flew my red travel bag. Last time that got pulled out we ended up going on an epic adventure in Lincoln Park. This time, however, we didn't ride on the El train but instead got on a city bus. When we arrived at our destination in the west loop – Pet Care Plus – I was greeted by a handful of friendly pugs. Some of them were wearing flotation devices which I thought was odd, until I set eyes on… THE POOL!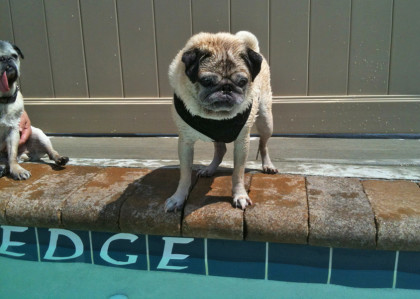 I began by doing a few laps around the perimeter. To make sure the pool was, you know, up to all the proper regulations and such.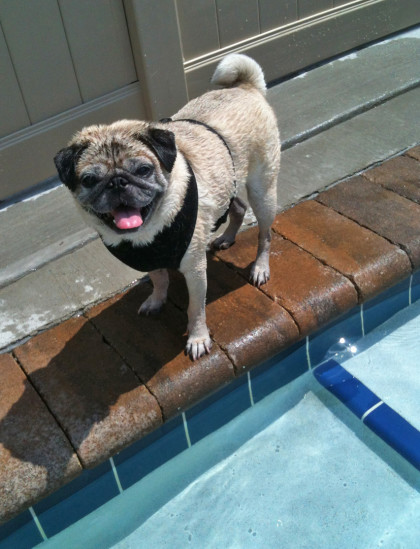 There were a few pugs swimming and some bobbing around in their floatation devices. I noticed a few other pugs just hanging out at one end of the pool, where the water was only dew-claw deep. Aha! That looked like a good place to start.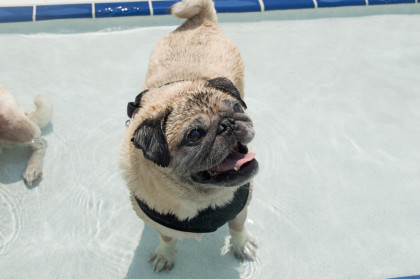 It was very hot and the sun was beating down, so getting my feet wet felt splendid and instantly cooled me off. Then all of a sudden I saw something familiar in the water. It was my glow-in-the-dark WIGZI ball!!! My dad had brought it with so we could play in the water.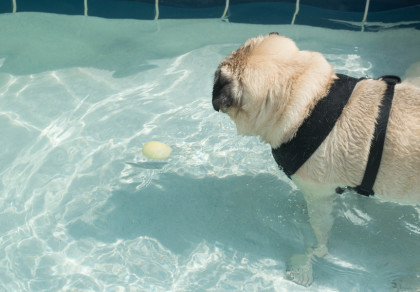 It floats, and sometimes it would drift out of my reach into the deep end…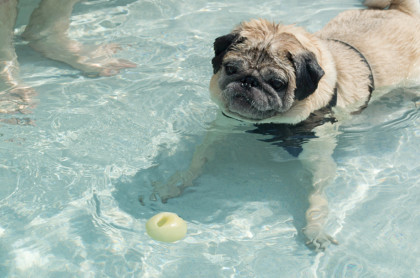 See how I put on the brakes?! Luckily my dad or some of the other awesome humans there would toss it back in my direction so I could try to bob for it in the shallow water again. Trying to catch it in the water was really challenging. I eventually found the best strategy was to quickly dunk my whole head under water to grab hold of the ball.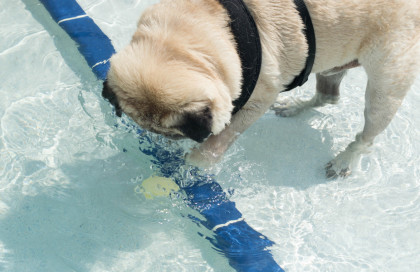 I decided to take a break from playing with the WIGZI ball so I waded back into the shallow end of the pool. Well, guess who I ran into?! None other than my friends that I met last month on the pug boat tour – Violet and Timmy!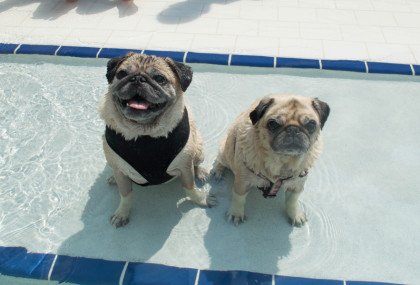 That's me and Violet – isn't she cute?! She's very petite. She just celebrated her 10th birthday and brought home-made mini cupcakes for all the pugs. They were delicious! Full disclosure: I actually ate two cupcakes. Thank you so much for the cupcakes, Violet!
I was feeling a bit mischievous and saw Violet trying to take some glamour shots, so I thought it'd be funny to photo-bomb them (with my blue potato, of course). Hee hee!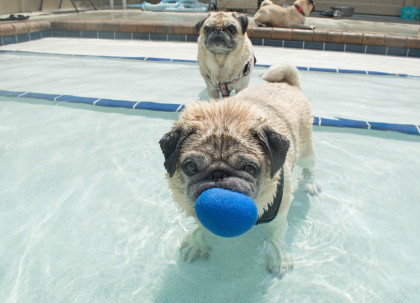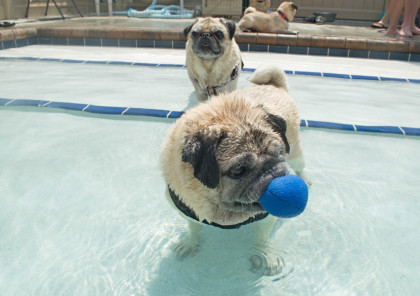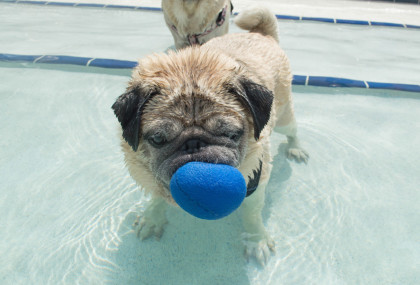 My dad and I played a bunch more with my blue potato, I met a bunch of other cool Chicago pugs, and I was the lucky recipient of some complementary butt scratches. Yes, that is the spot!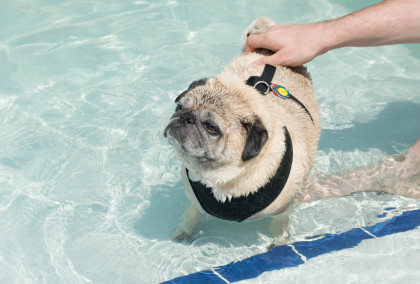 All in all, it was the perfect day for a pug.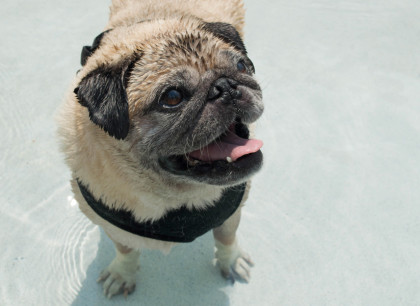 And now you can hopefully understand why I was soooo pooped when I got home! I can't wait to go to the next pug pool party!
—
Thank you so much to Violet's mom, Christina, for taking the bulk of these photos. See, my doofus dad, in the heat of packing all the beach towels, toys, sunscreen, and other items, FORGOT to bring his good camera! So Violet's mom was kind enough to take a bunch of shots of me! THANK YOU, CHRISTINA!
Also, THANK YOU to Chris and Dee Dee for organizing and hosting the event. If you live in Chicago and are interested coming to the pug meetups, the group's website is: http://www.meetup.com/chicagopugs.
Tags: adventure, mayhem, pool party, pug love, Sid, special guests, Summer, swimming, toys, Violet