Birthday Week Wrap-Up
Hi there all you adorable Pug Slopers –
I'm totally knackered after a full week of partying for my 8th Birthday (which was technically on Friday). So this week I plan to SLEEP, EAT, and then SLEEP SOME MORE in order to recuperate. But first, I wanted to share some photos from all the B-Day festivities.
First, was my TOWERING Birthday cake that dad "baked" for me.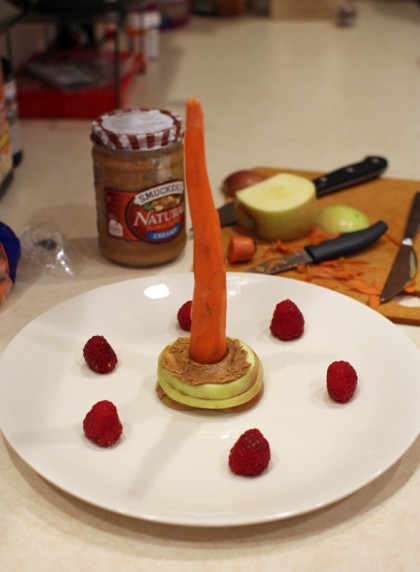 The cake consisted of alternating layers of sliced apple and peanut butter topped with a FULL-SIZE CARROT (a significant upgrade to the baby c's I am known to devour). To "fancy it up", he placed some raspberries around the perimeter. He knows I'm not 6 years old, but said he ran out of raspberries (I'll forgive him). I couldn't wait to eat the cake. I stared goggle-eyed at the creation as it was being built on the kitchen counter. I may have even whined like a puppy the whole time.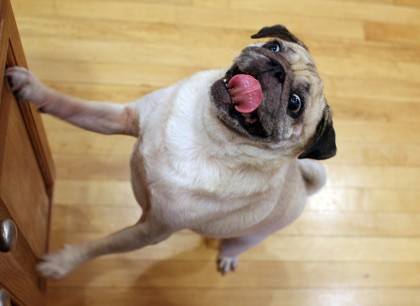 Next was a fresh new toy – a skinny squirrel with squeakers at both ends. I take pride in my ability to crustify any new toy no matter how soft and fluffy it initially is. After a couple days of intense chewing and hiking it through my legs, the squirrel now has crispy saliva-spiked fur and both squeakers have been silenced. I'm a professional, kids, don't try this at home.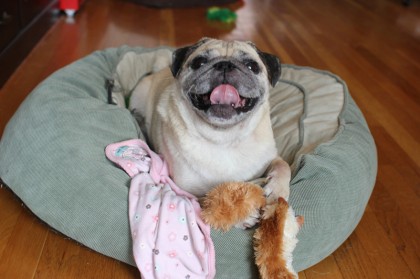 As a grand finale to Birthday week (which technically extended into this week because Dad took the day off on Monday), we went to the Foster Dog Beach! I got to run around like a maniac on the sand and also swam some laps in Lake Michigan. Unfortunately, I was too exhausted to edit together a sequel to PUGWATCH, so you'll have to use your imagination with these still photo highlights: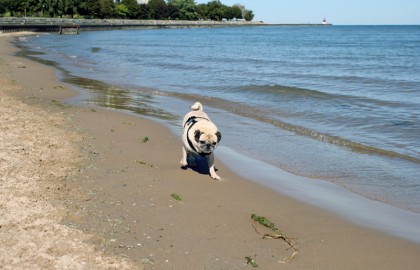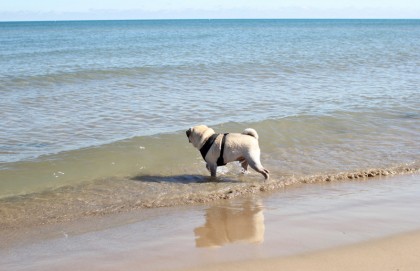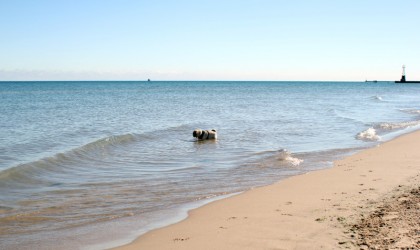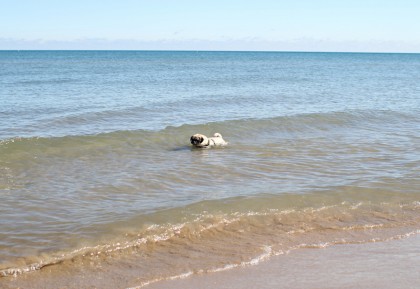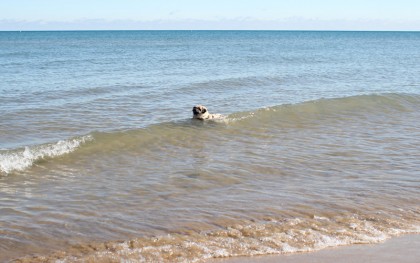 All in all, it was a total blast and I can't wait for my next Birthday! I hope you all got to celebrate along with me and get some EXTRA TREATS!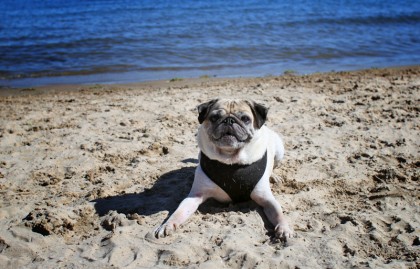 Tags: Birthday, Foster Beach, mayhem, Sid, spoiled, swimming, toys, treats