Fasting Bites
Hi there Pug Slopers!
Sid here today. I'm sorry if I seem a little grouchy today. It's because I've been FASTING.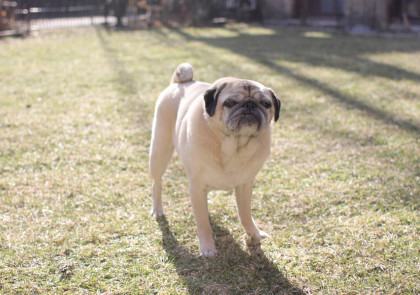 If you're a pug, the concept will be completely foreign to you because we are not programmed to fast. I had to look up the term on google and basically it means CHOOSING to NOT EAT. Sorry, my brain just fizzled for a second while I attempted to process that concept.
See, I have to get my teeth cleaned today and I'm not supposed to have anything in my system when they do the cleaning. So the last morsel of food I had was YESTERDAY at NOON! Can you believe it? I bet you can't, but it is most certainly true.
It is NO FUN, let me tell you.
I keep giving my dad the stink eye, but I've been unable to break him like I usually can. He gives a deep sigh every time I follow him into the kitchen since he can't even give me a tiny baby carrot. He can't look me in the eye, which I think means my fasting is hard on him, too, because he does like to spoil me (most of the time).
Please send me good juju for my dental cleaning today. I don't want ANY extractions and don't want the bill to totally eradicate my treat funds, either. Let's just get the teeth sparkly clean, the nails trimmed, and get back to our normal eating routine.
On the plus side, my Dad said that once I'm done with my dental, I'm going to get SPOILED with treats and even get some extras for the ones I missed while fasting. At least that is something to look forward to!