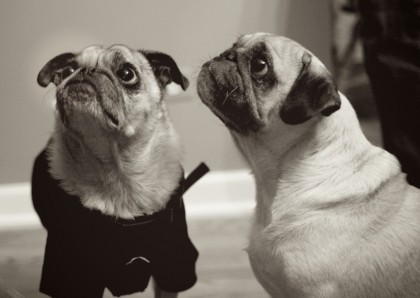 Sid and Payton in Chicago, December 2011
What a sad day.  Payton, you little ball of inspiration and determination and perseverance and love, we're honored to have gotten to know you through your amazing blog and to have had the opportunity to spend time with you in Chicago, and our thoughts today are with your wonderful, loving and supportive family.  You were a tough cookie, a spunky little sweetheart, Sid's feisty older lady, and the embodiment of the pug motto "multum in parvo." You are already missed.
*****
Please visit Payton's blog, Pugnacious P, to read more about her experiences with PDE and to share your support with Payton's family.