We hope you all are having a pleasant January. It has been unusually warm here in Chicago — especially for January! In lieu of snow we've been getting tons of rain which makes walks difficult because, as we all know, pugs REFUSE to walk in the rain.
Another thing that has made walks difficult is that one of Sid's rear legs decided it would stop working properly on Saturday morning.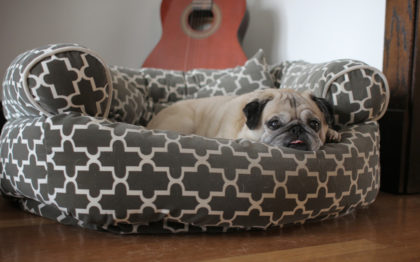 He didn't seem to be in any distress and would put weight on his left hind leg but something was clearly not normal. His gait was wobbly and he also kept his rear end tucked a bit, so it was off the vet. Hooray!
Well, there were no signs of pain or distress which was a relief. After examining him and looking at the symptoms, the vet suspected Sid may have experienced some mild disc compression in his back.
He received some fancy laser treatment on his back and some meds to help with any inflammation. He's doing much better today and he's got more of the normal pep in his step. But I wouldn't say he's 100-percent back to normal. If you could spare some good pug juju, please send a little our way. I'm hopeful he'll be back to strutting his stuff again in a couple more days but for now we're keeping our walks short, naps long, and the little guy gets carried up and down all stairs (I secretly think he may be faking the whole thing for this reason).