Sid's sleeping in this morning (meaning he woke me up at 6am by sneezing in my face, I fed him, and then he went back to bed) which allowed me the opportunity to stealthily get a post up on "Planet Cool Sid" without him noticing (FYI: Jenn and I are planning a "coup d'pug" this weekend in order to wrestle the blog back from his clutches). I just wanted to show you all one of the completed pug portraits.
This portrait is of a regular commenter on Pug Slope, Eddie from San Francisco (not to be confused with another local pug sloper, who also happens to be named Eddie). A couple months ago, Sid got to meet Eddie's sister, Stella Boo McMuffin, who happens to live in a nearby neighborhood in Brooklyn.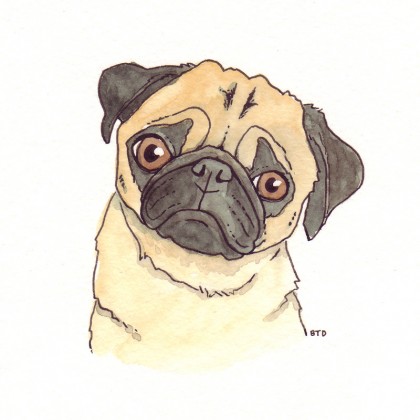 If you're interested in getting your own pug's portrait done, please read this post for more information.
And to those of you that have already ordered, I plan to finish up a couple more of them this weekend. I'll keep you posted via email when they'll be shipped out. I'm sorry that they've ended up taking longer for me to do than I originally expected.
Have a great weekend everyone! Be sure to hug yo' pug (even if they've usurped your blog and get to sleep in when you have to get ready for work).