Change the World
Well, I don't mean the whole world – actually quite a small bit. Specifically the policy that doesn't allow pets in small carriers on the Metra commuter trains that connect Chicago to its suburbs.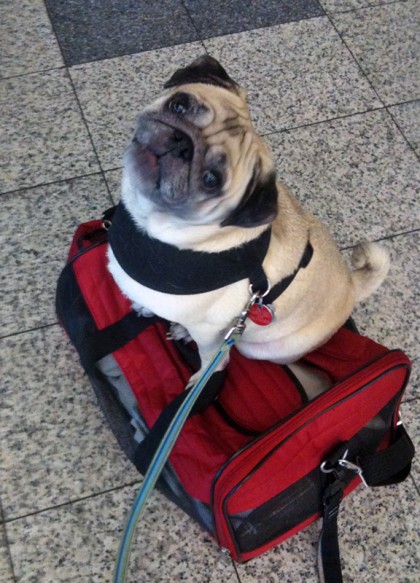 The photo above is of Sid was getting ready to hop inside his travel bag while at the airport last year. Most airlines allow small pets in the cabin as long as they stay inside an approved carrier during the flight. Same goes for all the buses and subterranean & elevated CTA train lines in the Chicagoland area. Somehow the Metra commuter trains, which connect the suburbs to the city, opted for a no pets period policy. Plegh. That's a lot of P's.
All of my family live in the suburbs and most of them are within walking distance from a Metra train stop. So if Sid and I want to visit them we have to rent a car, which for one is expensive, and, more importantly, defeats the purpose of living in a city with a great public transit system. We don't want to contribute to auto traffic congestion – we want to ride the trains!
After doing a little research, I came across an online petition that had been created earlier this year by a like-minded individual who was looking for the exact same thing that Sid and I were looking for: a change to Metra's pet policy to allow small pets in carriers (like everyone else!).
I know many of you do not live in Chicago, but if this issue hits home at all – perhaps the same type of policy exists in your city – please sign the petition. The more places we can bring our furry companions the better, right? THANK YOU!
Tags: Metra, Sid, travel, travel bag