Guardian the Frozen Tundra
So, guys, I woke up yesterday morning, hopped out the door for my morning walk, and check out what I saw: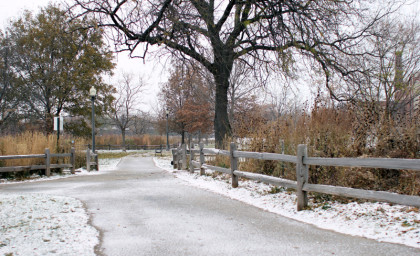 Is it just Chicago or is it like this EVERYWHERE? Who let the snow out?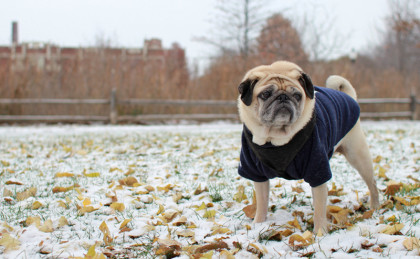 I actually enjoy the snow as long as it's not too cold outside and I'm properly bundled up. Oh, and I know it looks like I'm surrounded by a field of delicious Pringles, but let me tell you THEY ARE SADLY NOT PRINGLES. They're just yucky-tasting leaves. Yeah, I know, I thought one of my dreams had finally come true…
So, I moved on ever hopeful I might discover the motherload of frozen tasty morsels.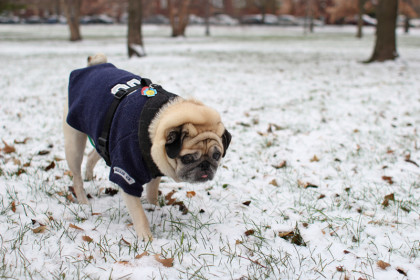 Unfortunately, no goodies were found. But I did get an idea for a screenplay, tentatively titled "Siddhartha Lamont: Guardian of the Frozen Tundra" which will star yours truly (naturally) and will take place in Chicago because it's the coldest place I've ever lived. I've only got the title so far, but I've got a suspicion that I'm going to have PLENTY of time to work on the script while I'm cooped up indoors for the next 4 months or so.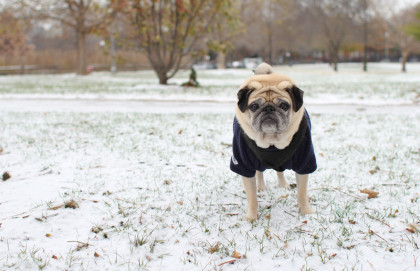 What do you think? You think some studio will produce it? Do you think I can pull of the lead pug role? Although I'm 9, I've been told I can play 6 or 7. And finally, what the heck is tundra anyway?
Tags: polar vortex, Sid, Winnemac Park, winter