Halloween Recap II – Takin' it to the Streets!
So, once Sid and Timothy had done their part to repair Shark / Penguin relations…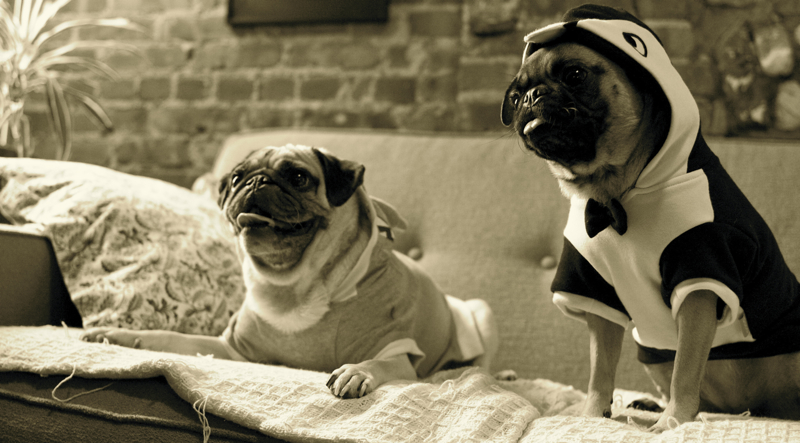 …it was time to take their halloween hoodies to the streets!
Now, I don't know how familiar you are with the Park Slope neighborhood of Brooklyn, but it's known as one of the kid-friendliest neighborhoods in the five boroughs of New York City.  Kids run this 'hood.  So, at 3:30 in the afternoon, the streets were already PACKED with sugared-up robots, pirates and cowgirls.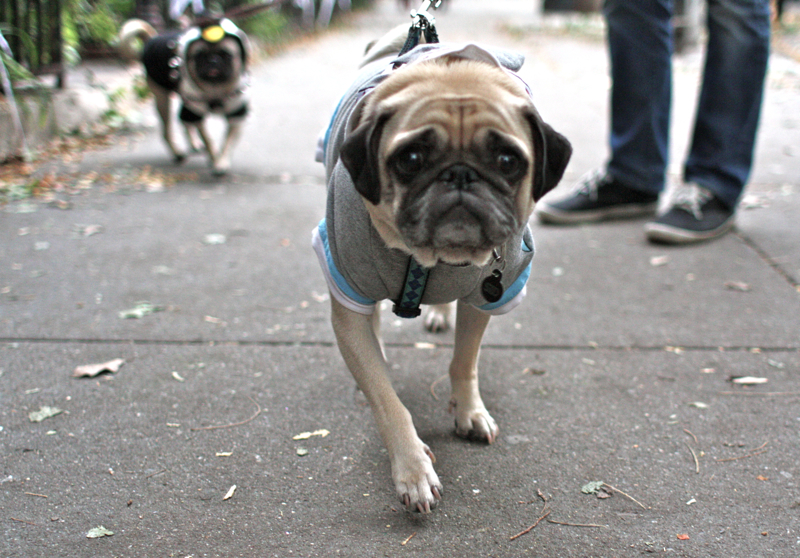 Due to a number of considerations – such as Sid's maniacal tendency to assume that EVERYTHING is a treat for HIM, the short stature of children and the correspondingly low height at which their tiny arms swing their bulging candy buckets, and my neuroses – we made a decision to avoid the ACTUAL trick-or-treaters on the main avenues and stick to some lesser-traveled streets and alleyways.  So, beyond the fact that Timothy is dressed as a penguin with a bowtie, and Sid is dressed as a shark, the photos from our adventure are not very halloweenie, and mostly involve a lot of walking.
Front view!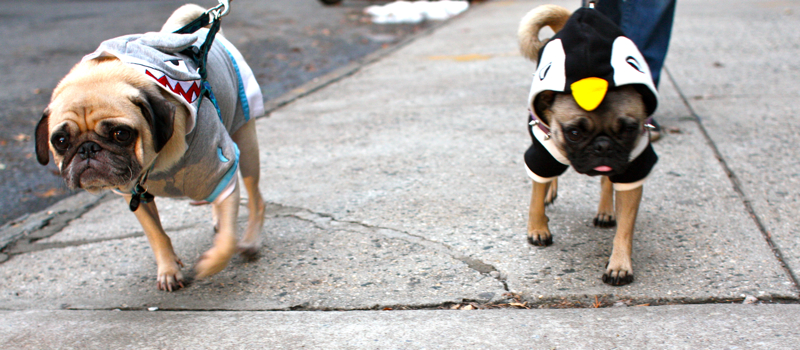 Top view!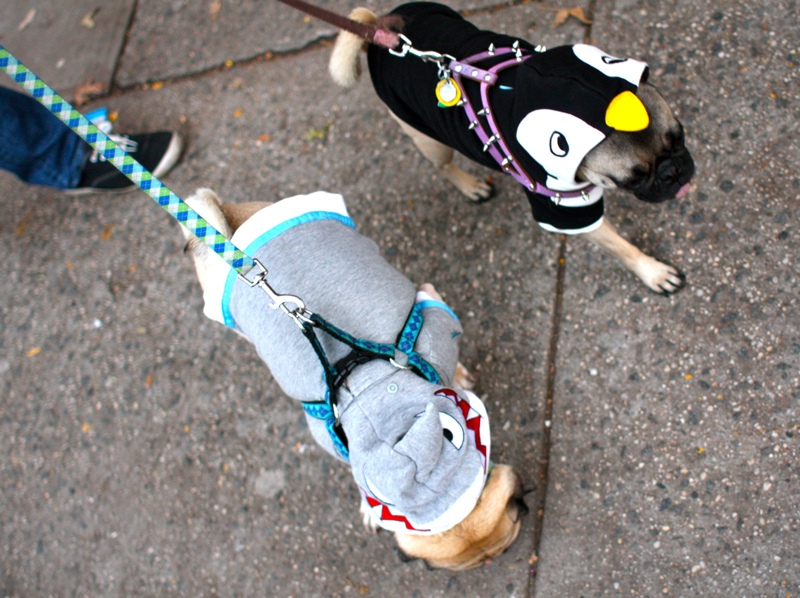 Rump view!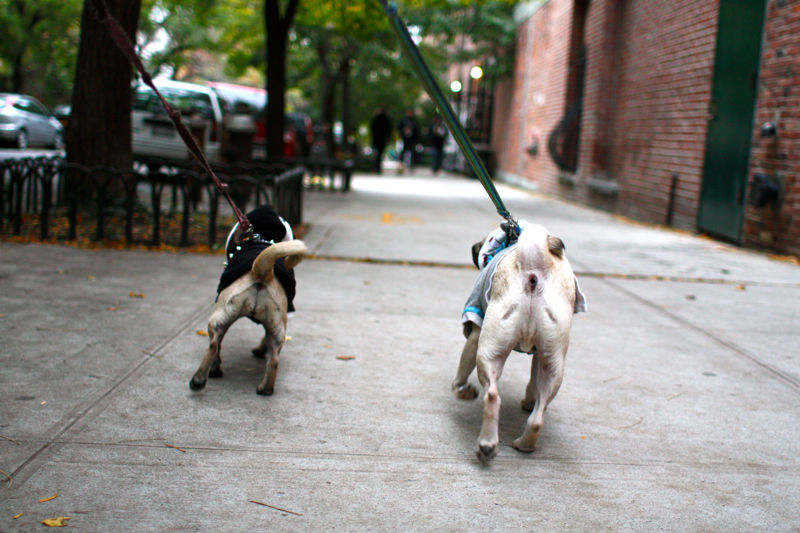 Thanks to Saturday's totally random pre-Halloween snowstorm, we were able to get a photo of Timothy Penguin in her native arctic habitat: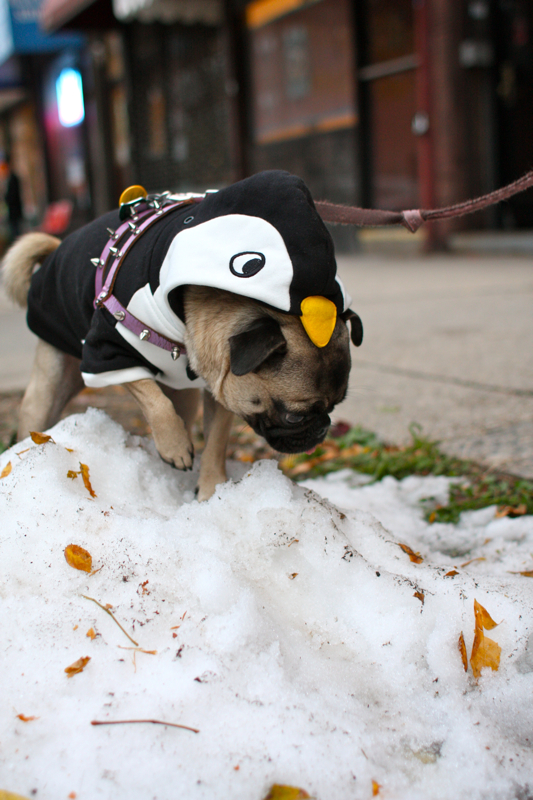 And although Sid didn't get any candy, his treat was that we allowed him to spend some extra time sniffing, chewing, and spitting out the tiny leaves that he's been OBSESSED with ever since the fall season began: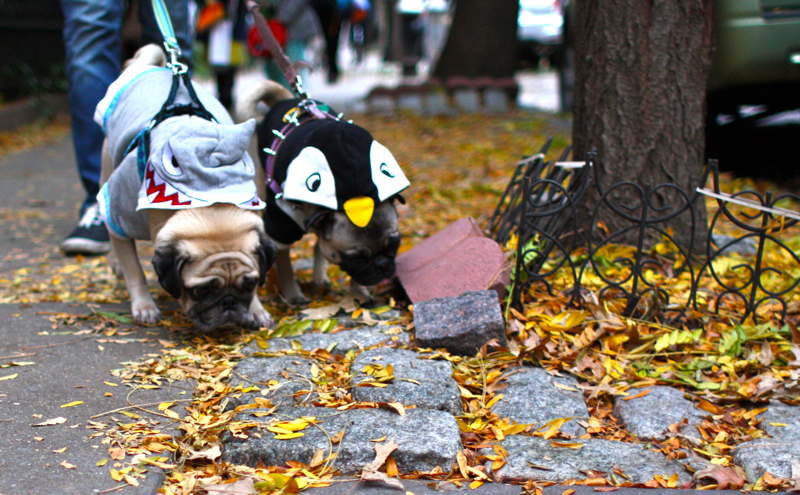 Lucky for us, Sid prefers leaf-foraging to pixie stix.  By the time we returned home we had one tired, happy shark-pug.