The Puggish Invasion (Part 2)
And the tri-pug adventures continued…
Donald, Daisy, and Sid did a little gift exchange with eachother. Sid received some cool and extremely thoughtful presents – including a STUFFED BABY CARROT!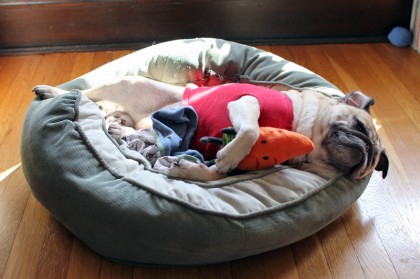 I know you're plush, but I still plan to eat you one day.
He also got a some sweet potato treats and a super soft and warm fleece sweater that used to belong to Payton. It'll surely keep him warm during this winter that seems like it may have a few more months to go. Thank you, Donald, Daisy, Christy, and Tim!
Sid gave Donald and Daisy each a Wigzi because he felt they were not getting enough peanut butter in their daily lives. He said that peanut butter and baby carrots are an essential component of the pug food triangle.
For some reason, the pugs got a kick out of playing on the deflated air-bed. I think it may have been the fact that Tim was sitting on it and he possesses some sort of gravitational pull that the pugs cannot resist.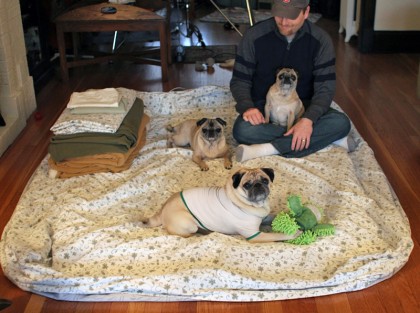 Unfortunately the party couldn't last forever. Donald and Daisy got bundled up and their 'rents packed up all the pug accoutrements.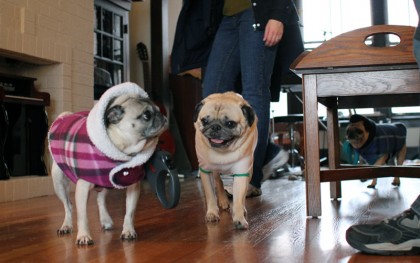 Sid didn't want our special guests to leave, so he forged what he thought was a fool-proof plan…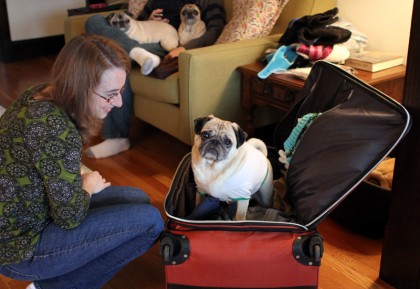 C'mon! How did you guys find me in here?!
We had a great time with D & D and their 'rents this past weekend. Looking forward to their next visit to the Windy City!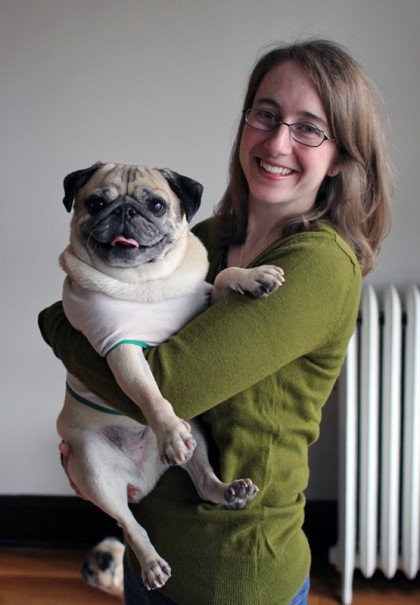 Sid & Christy
Tags: Daisy, Donald, pug love, Sid, special guests