1000 Pugs!
Well there weren't quite 1000 pugs at Washington Square Park on Sunday, but there were at least two dozen. Despite the chilly temps and drizzle, we made it to the NYC 1000 Pugs photo shoot.
This was Sid's second subway adventure, so of course he knew this meant he'd be hanging out in his travel bag for the duration of the subterranean journey. Stella Boo McMuffin (from Greenpoint, Brooklyn) was also in tow as she was spending the week on holiday with us at Camp Pug Slope.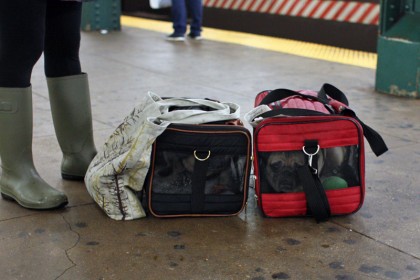 Don't worry, these aren't "suspicious packages" – they're just a coupla' pugs.
When we got to the the park, Sid and Stella were greeted by none other than Puglet, from The Daily Puglet.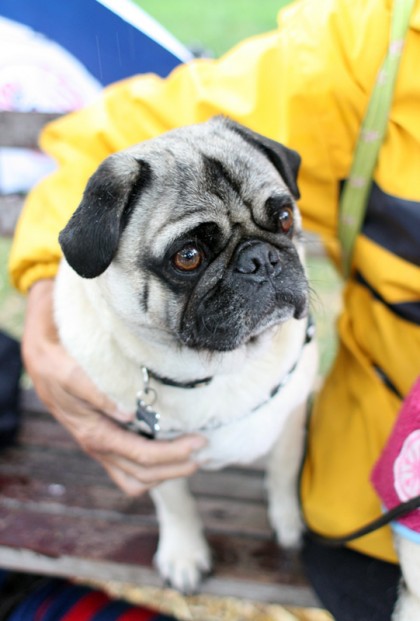 Mr. Puglet, himself!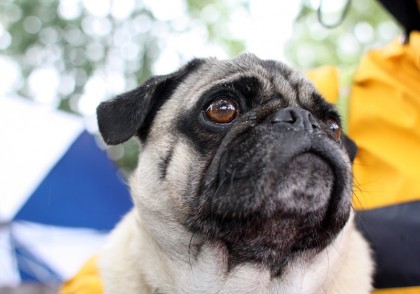 He's got amazing eyes!
Puglet's human, Amanda, is the sole creator, organizer, scheduler, and photographer for the 1000 Pugs project. She is awesome and, by the end of the shoot, Sid wanted to go home with her (I mean she was wearing a POUCH FILLED WITH BABY CARROTS, how could Sid resist?).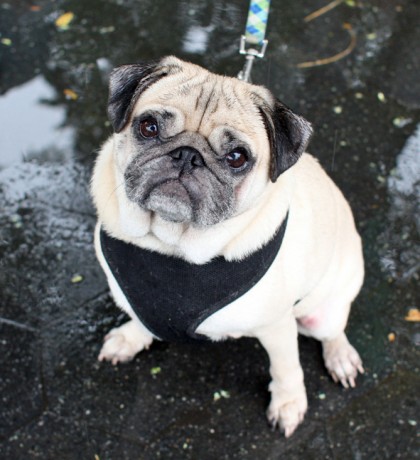 You had me at 'baby carrot'.
Amanda's mom was there keeping an eye and Puglet and his cousin, Sophie who was as sweet as could be. While the other pugs were running around, panting, sniffing, and getting their leashes twisted into a cat's cradle, Sophie just chilled out in Amanda's mom's arms.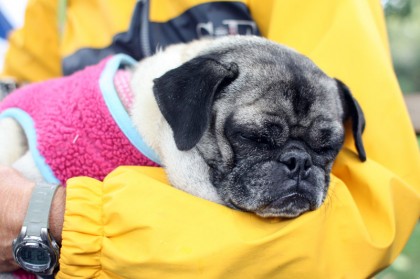 Pretty soon it seemed like everyone we've ever met via the blog showed up! It was insane!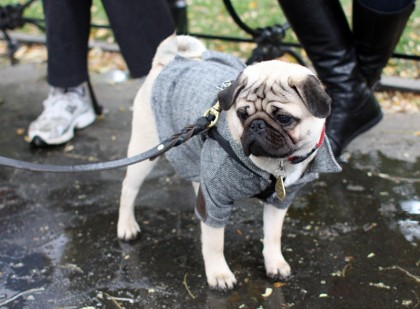 Weasley from Urban Hounds, sporting his ever-so-dapper tweed jacket.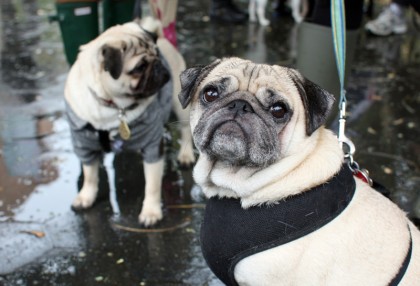 I need a cool jacket like that, Dad!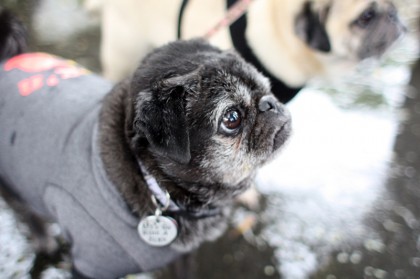 Ping, also from Urban Hounds, was also there in a little sweatshirt, as was Tubby (who I didn't get a good photo of – Sorry Tubby!)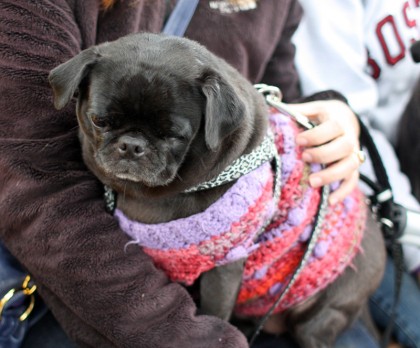 Scarlet from The Scarlet Sutras kept dry up on her mom's lap. She sure is a wise pug!
We also finally got to meet the M3 gang, who I painted portraits of a while back.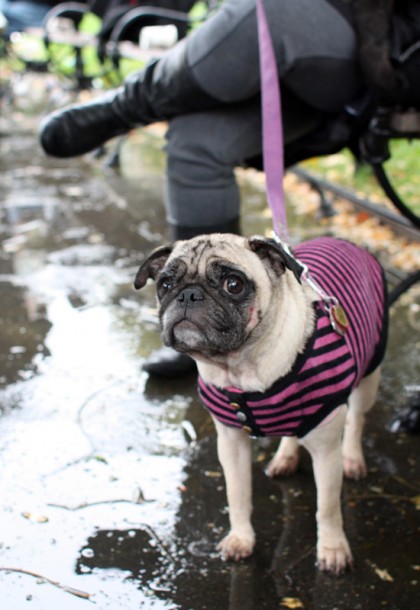 Mochi,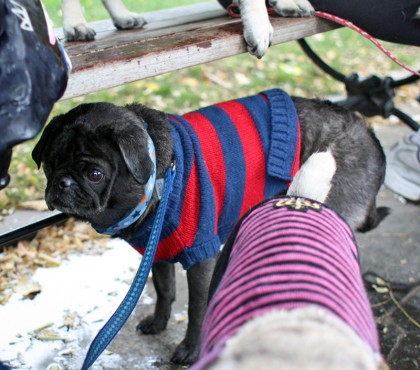 Macho,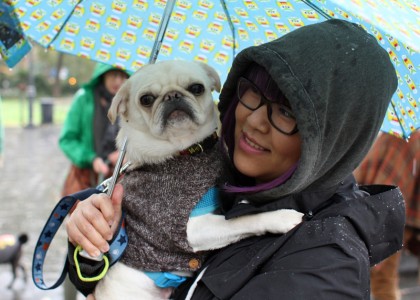 and Marshmallow – he's a self-admitted "momma's boy".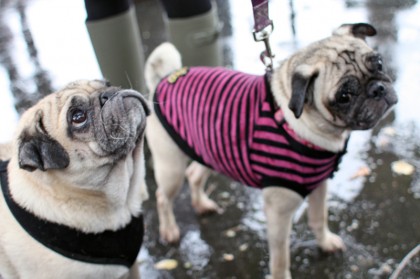 Mochi explained to Sid the pros/cons of having to live with two other pugs. Sid didn't understand the concept of having to 'share treats'.
And that's NOT ALL! Of course Sid's LADY-FRIEND ESPECIAL, Miss Timothy Buttons, was there with her 'rents.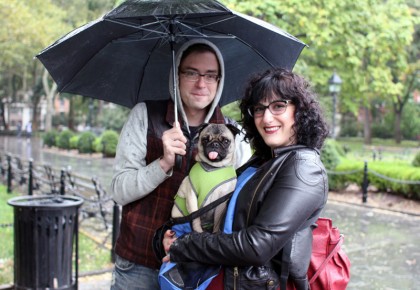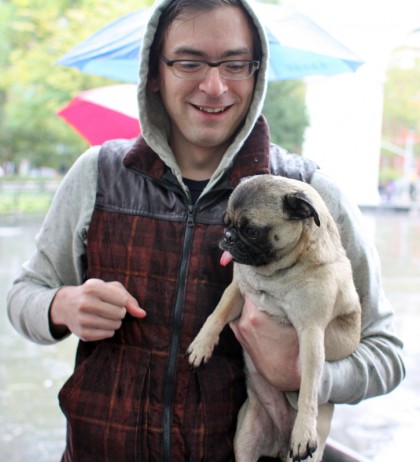 Like Sid, T-Buttz was a little pooped after her photo shoot, too. Amanda made them WORK for those treats!
Tim and Christy (from Pugnacious P) were there, on the last stop of their "Remembering Payton" tour. We still miss Payton a lot and it was really nice to hang out with them (more on that in another post, too!).
The rain started coming down pretty hard, and there was a lot of pug shivering goin' on, especially among the M3 posse, but soon spirits were lifted when the whole Southern Fried Pugs crew rolled on up. Yes, they literally rolled up.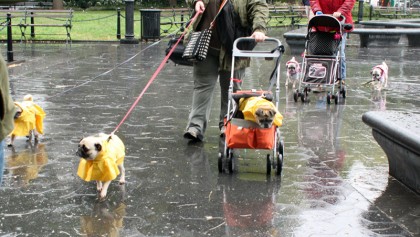 Um, I think the pug count just doubled.
Aside from all the pugs and people we know from blogging, there were also some adorable local NYC pugs, including one named Pixel.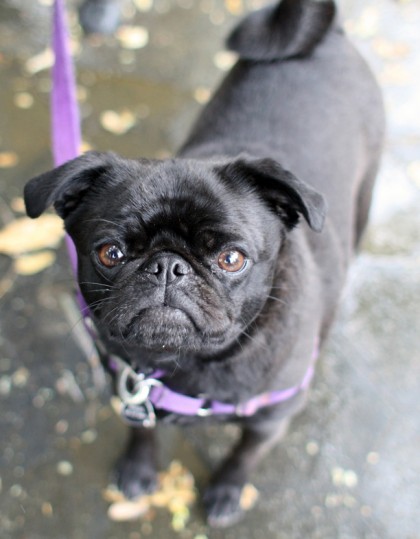 Unfortunately, even with all the PUG LOVE in the air, the crummy weather was getting to pug and human alike – even Stella was dropping hints that it was time to get home.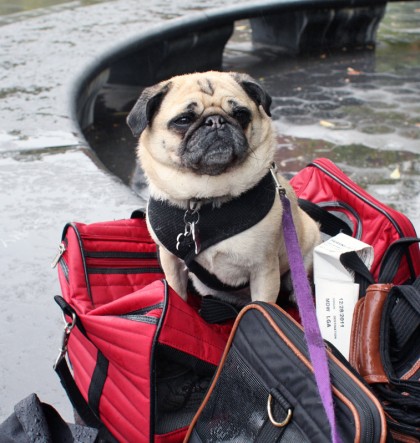 So, like, am I supposed to get in this bag all by myself?!
Before we headed for the subway, Sid insisted we get a photo with him and Puglet.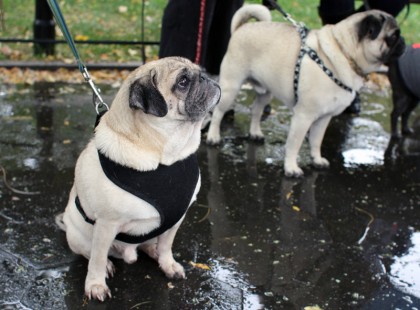 The "Jimmy" masters.
Tags: 1000 Pugs, Manhattan, mayhem, pug love, Puglet, Sid, Stella, Washington Square