Boring Week = Exciting Weekend
So my dad and I haven't written any posts this week (other than Monday) because it's been pretty boring over here at Pug Slope Headquarters.
I mean, we've just been doing our normal mundane routine – y'know walks a couple times a day, breakfast, stuffed Wigzi balls for a lunchtime snack, dinner, midnight snack if I'm so lucky, and plently of sleeping and napping.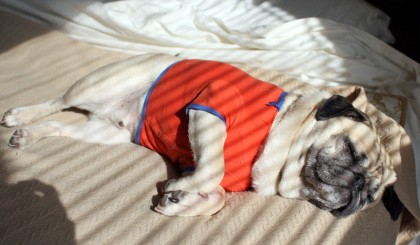 Turns out that laying low this week was actually a good thing, though, cuz now I am totally prepared for AN EXCITING WEEKEND!
My dad hasn't told me the whole story but he mentioned that some guests (yes, there's an "s" on the end of that) will be crashing with us at Pug Slope HQ. And we're not only talking human guests but also GUESTS OF THE PUG KIND. And yes, there's an "S" on the end of that one, too!
OMP I can't wait. It's too bad my dad did all that cleaning last weekend, I was hoping to show off my cool "peanut-butter print" bed that I'd worked so hard on the past few months. Oh well.
So, guys, who do you think the guests could be?!
Tags: pug love, Sid, sleepy, special guests