Washout
In his last post about our excursion to the Chicago lakefront, Sid forgot to mention that our beloved Foster Dog Beach is no more.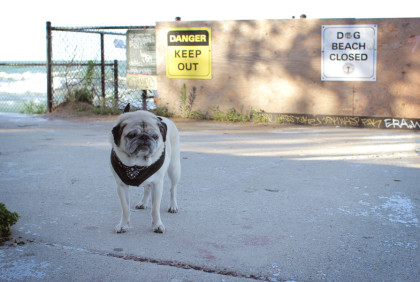 The high water level of Lake Michigan gobbled up the small remaining corner of Foster Beach reserved for the 4-legged and the tumultuous storms and heavy waves took out the fencing, deck, and wooden ramp that led down to the dog beach. If you take a look at our post from last summer, you can see what our cute tiny dog beach once looked like. We'll miss it, but hopefully it can be rebuilt in the future.
Until then, I guess it's time to find ourselves a new dog beach because this pug wants to swim!
Tags: Chicago, dog beach, Foster Beach, Sid, Summer