Sid's in Love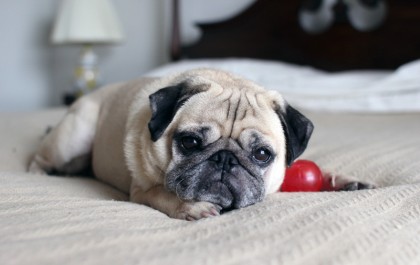 Well, maybe he's not quite "in love" but he's without doubt "deeply obsessed". However, have no fear, Miss T-Buttz and other lady-pugs out there, the object of Sid's desire is not another pug – it's his little red Wigzi ball.
The main reason he totes it around everywhere is because each day at lunch time the Wigzi's pockets are stuffed with treats and peanut butter by yours truly. This pug-distraction technique affords me the opportunity to eat my own lunch without uncomfortable staring, sneezing, and loud-sitting on the part of Sid.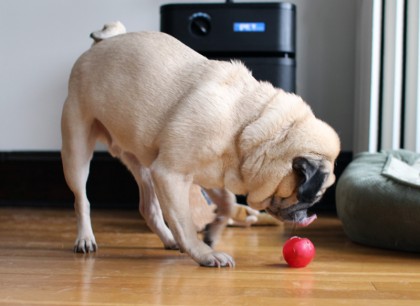 However, even when the ball is clearly empty – and trust me, Sid gets EVERY MINUTE MORSEL – he still carries it around. His optimism amazes me. I guess he thinks the ball may somehow spontaneously sprout more peanut-buttery goodness and he does NOT want to miss that moment.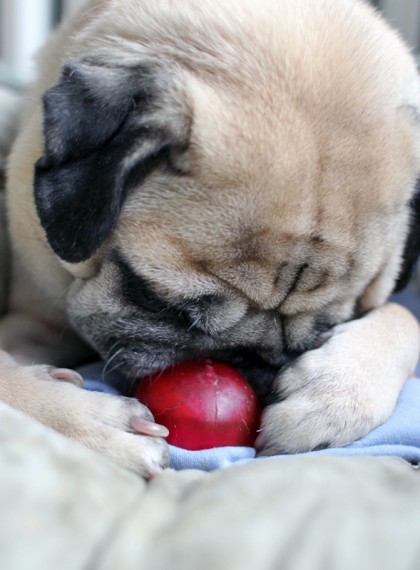 Sid and the little red ball are practically inseparable.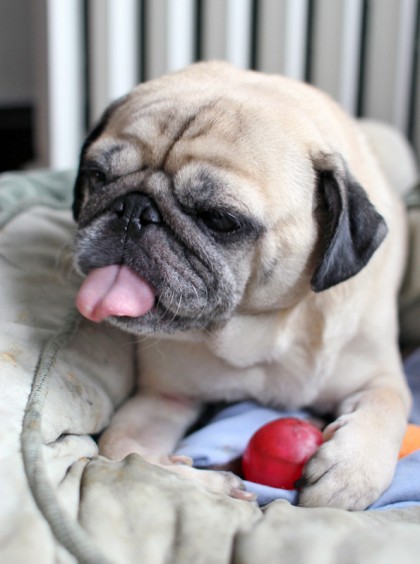 I guess the lesson here is if you are looking to catch Sid's eye, you might want to try stuffing your ears with peanut butter. Although don't be surprised if he FOLLOWS YOU EVERYWHERE, FOREVER!