Birthday Week Continues
It's still technically Birthday Week here at Pug Slope as Sid's 7th Birthday was just last Thursday.
About a week before the BIG DAY, he gave us a list of potential gifts he would like (and I quote):
1. Giftcard from MrChewy.com

2. Baby Carrots (like 10 bags min.)

3. Another batch of Plush Potatoes (yellow is my favorite color)

4. Jar of Peanut Butter (left on floor with lid removed)

5. Framed black-and-white portrait of T-Buttz and I looking all romantic and stuff

(NOTE: Puhleeez do not get me any more CONFIDENCE SHIRTS. I have like 2000 already and also I've already got enough confidence without  them – remember how I scaled Mount Couch sans shirt?!)
Much to his surprise, we actually appealed to requests #2 and #4 (though not is the requested quantities) via his Birthday cake,  which consisted of a cored & peeled apple topped with peanut butter, a crunchy venison treat, and 7 baby carrot "candles".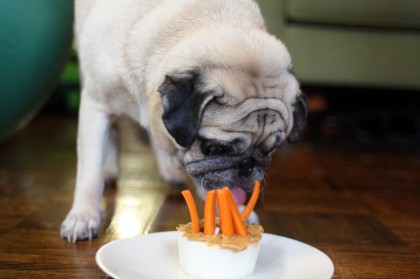 Sid was even more shocked when something large and billowy was pulled out from its hiding spot and placed on the floor in front of him.
Being a gentle-pug of leisure, he knew exactly what this item was and what he was supposed to do.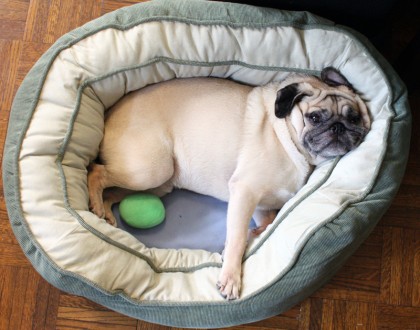 This is mine.
While he was occupied with fluffing-up his new bed, we were able to covertly slip in and purloin his old, crusty, stinky bed (complete with peanut butter remains mashed into the fabric). We're hoping he doesn't notice.