Sid's Picks – Day 1
OH MY PUG, I'M BACK AGAIN.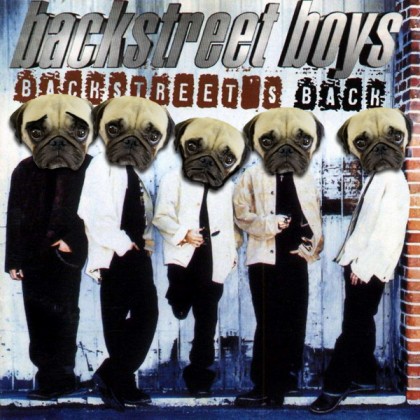 And all it took was me forging a letter from the Pug Slope Headquarter's landlord saying that the rent was going up a bazillion dollars a month, and then convincing Mom and Dad to just find a new headquarters rather than negotiate with "the landlord," and then making a deal with some guy on the Internet to rent Mom and Dad a slightly better apartment that's only a half a bazillion dollars more than our current place, BUT MY MASTER PLAN WORKED.  Now they're all occupied with packing all the stupid stuff in the house that you can't even eat (WHO CARES ABOUT BOOKS?!?) into stupid empty boxes, and I AM ONCE AGAIN THE MASTER OF THE BLOG.
BEHOLD, the secret lair from which I write this post: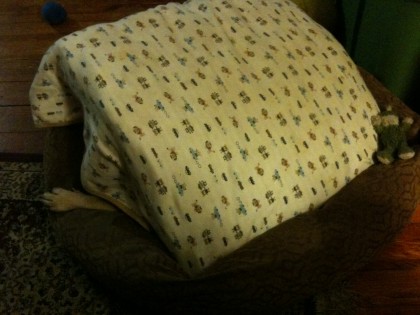 BWAAHAHAHAHA!
Serves them right.  Mom and Dad totally promised I'd get a weekly Planet Cool Sid post back when they overturned the actual PLANET COOL SID, and they totally didn't follow through on their end of the bargain.  I did one AWESOME video, and then what?  Nothing!
But, whatever, I'm here now.  I don't really have a lot of new stuff to say because my parents are all busy packing for this totally necessary (wink-wink) move instead of helping me do the awesome things that I normally do to get all my great blog material, so I'm gonna repost some of my favorite posts that they wrote from way back when.
My first pick: THE VERY FIRST PUG SLOPE POST EVER!!!!
(For those of you who need help with the Internet (cough, Grammy Grace, cough), you can click on "THE VERY FIRST PUG SLOPE POST EVER!!!" and it will take you to the very first Pug Slope post ever. I LOVE YOU, GRAMMY GRACE!)
Awesomely titled, "Sid is Cool," this was the very first post my dad ever put up on the blog. I picked this post for a few reasons:
1)  I think I look pretty cool and confident in that photo.  Obviously.
2) The whole post is about how cool I am, AND I DIDN'T EVEN WRITE IT!!
3) Dad let me put a comment up there (under the secret code name "admin") and then we got another comment FROM A VAMPIRE! (Don't be scared, we know him)
4) Seriously, it's called "Sid is Cool."
COOL SID'S BACK, ALRIGHT!
Tags: Backstreet Boys, confidence shirts, mayhem, mischief, PLANET COOL SID, Sid, Sid's Picks