We can do what now?
We can finally go outside now? For more than 5 minutes?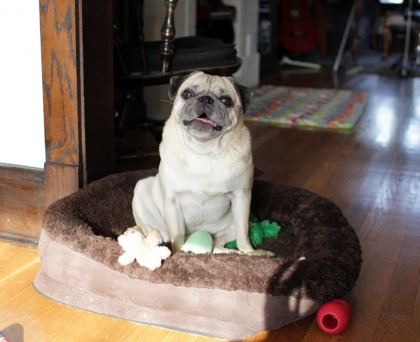 WOO HOO!
There are so many spots I haven't been able to sniff in AGES! I'm so glad temps have finally got closer to the tolerable range for us pugs. While I do enjoy my time indoors (napping, eating, chewin' on my antler, eating again, sleeping, etc.) it's hard not to get a little cabin fever (especially when your human works from home is CONSTANTLY in your face). I'm sure many of you feel the same way.
I also just wanted to personally encourage you all to enter my "BE COOL LIKE SID" super-duper prize give-away. I know you guys would just LOVE these prizes. Especially that Wigzi ball. You do need your human to supply the peanut butter, but you guys all know how to manipulate your humans already, right? Of course you do!
To enter to running for the give-away, just visit my last post and leave a comment with your favorite way to stay cool during the summer – those that have entered have already given me some great ideas (pool party anyone?). I'm going to announce the winner on Friday so make sure you leave a comment before then.
Now get off the computer and go outside – catch up on your backlog of sniffing spots!
Tags: Sid