Hangin' in the Square
I know Sid just told you about an adventure he recently went on in our neighborhood, but I guess it's been his lucky week because he got to go on yet another one. The weather was just perfect so we took a little stroll over to Lincoln Square which is about a 10-minute walk from Pug Slope HQ.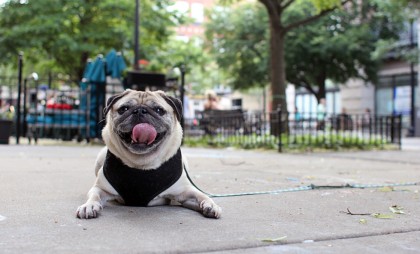 Lincoln Square is home to a lot of interesting independent shops including Merz Apothecary which is over 100 years old. Merz has all kinds of fascinating stuff including fancy soaps, perfumes, bath supplies, homeopathic treatments, moisturizers, and even moustache wax (which was a necessity back when I was sporting the handlebar!). Many of the items are imported from Europe or other parts of the world, thus making their selection way more interesting than a CVS or Walgreens.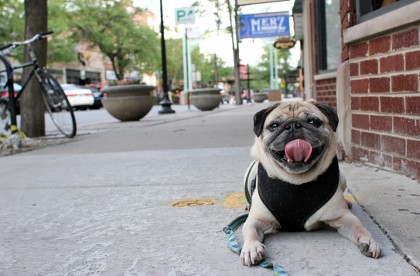 Aside from the apothecary, Lincoln Square also has a book store, a vintage guitar store, lots of stores geared to kids, a small movie theatre, gift shops, and lots of little places to get a bite to eat or wet your whistle.
We sat down to relax for a bit at Giddings Plaza which is a pleasant outdoor space with benches, shade trees, and a fountain. There's almost always people hanging out here and often kids will be running around or drawing on the sidewalk with chalk. In the summer they have free live music in the plaza.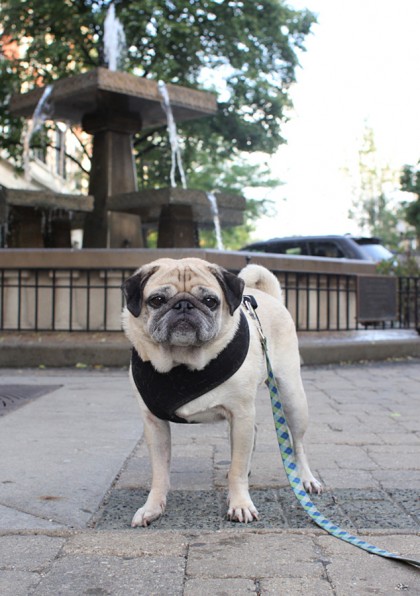 "Yeah, yeah, yeah….I'm standing by the fountain. Now gimme my baby carrot."
Before we left Sid wanted to get a photo by the El tracks. If you're not familiar with Chicago, the "El" is the local name for the subway system here, although "subway" isn't the best term because most of the system is elevated (thus the nickname). Sid actually got to ride on the El train last month when he had to go to the vet for his dental.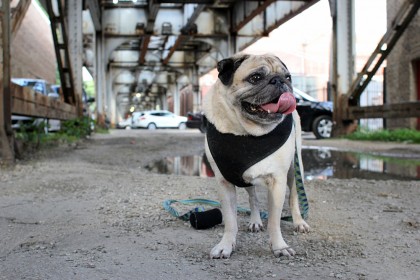 Siddhartha Lamont: Urban Pug
Tags: adventure, Chicago, Lincoln Square, Sid