An interesting episode took place at Pug Slope HQ the other night, although the bulk of the action destruction took place while I was out to dinner. I think it might be time to resurrect the Sid Cam.
A day prior, I had picked up a new basil plant from Trader Joe's and plunked it on my window sill so it could bask in the summer sun.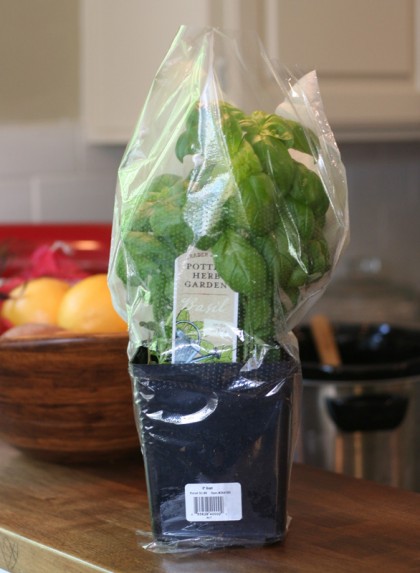 The photo above isn't my actual plant (image is from couponconnections.com), and although mine didn't look as lush as this particular plant, it still had a good amount of healthy green leaves on it.
Earlier in the evening, Sid kept paying excessive attention to the Basil plant. I thought it was pretty funny because normally he pays no mind to all the houseplants I have strewn around the apartment. Well, in hindsight this should have been  a warning sign because later that night I came home to find the apartment floor and all the dog beds covered in clumps of dirt.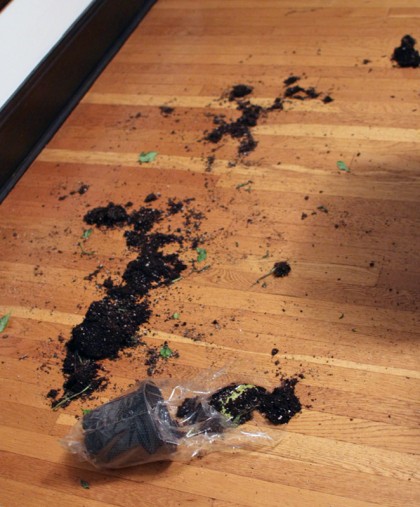 Scattered amongst the soil clumps were a couple remaining basil leaves – partially-chewed of course. As for where the rest of all the leaves, the stems, and the roots all went, there is only one logical explanation: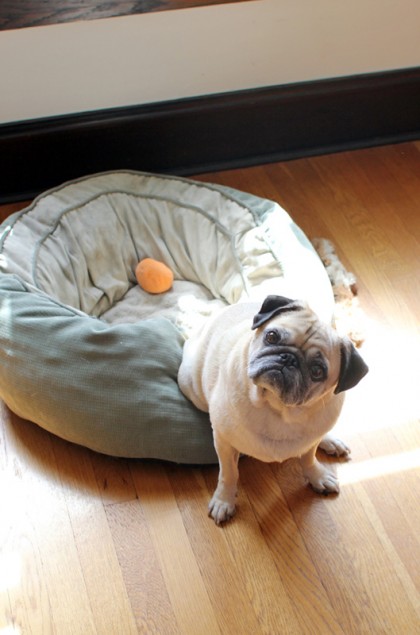 Yep. Don't let that sweet, tilted face fool you. Sid is one cold-hearted basil killer.
*** FOOTNOTE:  Of course the first thing I did was search the internet to be sure basil is not toxic to dogs and I was relieved to find it was not. In fact, basil can supply them with "positive mood altering effects" – well whoopee! Too bad sweeping up an apartment full of dirt clumps at midnight on a weeknight didn't produce any positive mood effects for this human.