Amazing!
WOW!  We want to say a big "thank you" to everybody who's contributed to Sid's Treat Jar! I was a little hesitant when Sid came up with this crazy plan to replenish his "treat fund" after we had to empty it out to cover his big vet bills, but I guess I shouldn't doubt a pug with a plan.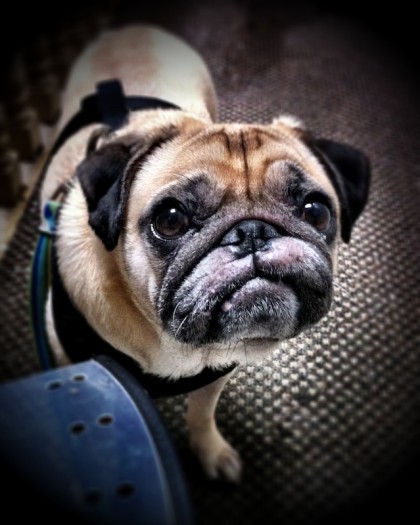 Wart-free flap-flip!
While Sid is hard at work on the Planet Cool Sid screensaver and other goodies, I want to take a minute to give an update on his health.  It's been two weeks since he had all of those warts removed, and it's been three weeks since he had his last dose of prednisone.  When we had big Carl removed from his muzzle back in April, he was still on prednisone and little Carl's started popping up almost immediately after big Carl was removed.  Fingers crossed, but this time, with his immune system unhampered by the steroids, his muzzle is still wart-free after two weeks.  Amazing!
Also, as Brian mentioned in an earlier post, the skin allergens test uncovered an allergy to a yeast bacteria that naturally grows and lives on skin.  If you're not allergic to it, you don't even know it's there, but if you are allergic to it, it's basically like being allergic to yourself, and the more you scratch, the more the yeast multiplies, creating a super-itchy cycle of madness.  Sid has been on an anti-yeast medication since the day of his allergy test, along with anti-yeast ear drops, anti-yeast shampoo, and anti-yeast face-flap wipes, and we've never seen him so calm and relaxed.  It's incredible.
Finally, we picked up our first supply of allergy shots on Friday, and the vet techs taught us how to do the shots.  Since he's allergic to so many things, we have two different serums to administer – one every other day.  After seeing how great he's been since getting the yeast nonsense under control, we're feeling really good about the allergy shots' potential to help out our bubble pug.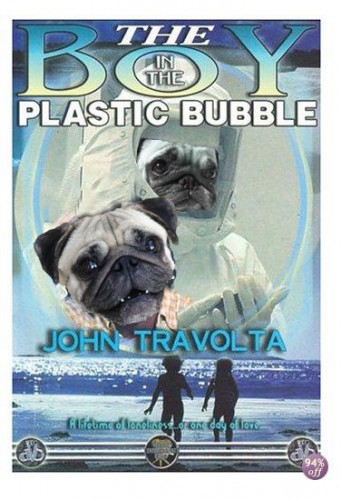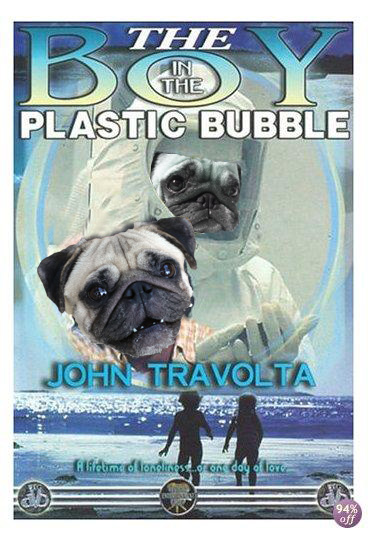 Thank you again to everybody who's helped replenish Sid's treat fund – I know it's cliche, but every little bit truly helps.  The vet bills we racked up in the wake of the warts / allergy test were a shock, but the promising results we've seen thus far make me hopeful that we'll be giving Sid a much longer and happier life than he'd have if we just kept him on the prednisone.
Here's Sid's run-down of the goodies he's sending out to anybody who helps replenish his treat fund:
$10.00:
A special thank-you on the blog
$25.00:
Planet Cool Sid desktop wallpaper for your computer
A special thank-you on the blog
$50.00:
Sid Solves Your Problem – Submit a question to be included in my new Planet Cool Sid advice column.  I can answer questions about anything and everything! I KNOW IT ALL. MY INPUT IS PRICELESS.
Planet Cool Sid desktop wallpaper
A special thank-you on the blog
$100.00:
$150.00:
For those of you who are dogs: a Sid's Picks Combo Pack featuring your very own confidence shirt and potato toy!
Or, for those of you who are humans: your very own set of Pug Slope note cards!
Plus all the stuff listed above!
$200.00:
Here's where it gets crazy, guys.  A special VIP access code for the PugSlope.com Treat-bone Live-Cam, good through the end of 2012.  Log in every weekday between 1pm and 2pm ET to see me chillin' like a villain with my peanut-butter-filled Kong bone. It's gonna be EPIC.
Plus all the stuff listed above!  That's a lot of stuff!
Thank you so much!!
Tags: allergies, Sid, Sid's Treat Jar, vet, wart