New Digs
Hey all friends (furry and non-furry) –
Happy New Year!
Sorry I've been a little absent from blogging lately. I'd love to say that I've just been spending the days playing with my Wigzi but I have actually been busy unpacking and settling into my new home.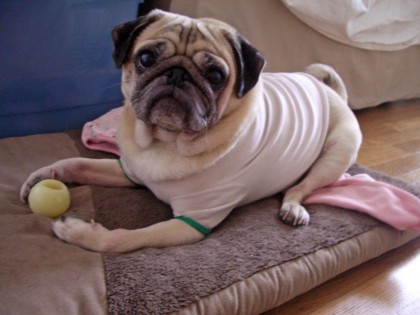 Yep, I'm officially a "Chicagoan" now. So far all I know is that Chicago is freakin' cold and although there's lots of cool new stuff to sniff and I live a block away from a HUGE park, the major problem is that I HAVEN'T SEEN ANOTHER PUG YET!!!
What gives?! Am I the only pug in Chicago? I mean, when I was crashing with my grandpugrents, I didn't see any other pugs either, but that was the 'burbs where every family has a pack of labradors or golden retrievers or aged yorkies (e.g. my cousin, Elly, who hates me for no reason. Oh right, I did eat all her food. Twice.)
Well, I did meet a few neighborhood non-pug dogs and they actually seemed cool. We did some sniff circles and all was right with the world. Though it's hard to relate sometimes – I mean, you can't really talk about how it stinks getting your nose flap cleaned out, or how your tail just isn't as curly as it used to be…*sigh*.
I think I just need to THINK POSITIVE.
On the plus side, I've been told that I might be able to change the name of the blog back to PLANET COOL SID (which is the best name ever, right?) because I don't live in Park Slope anymore. I think my masthead needs some more carrots, too…my belly could also use a few right about now.