Serenity Now!!!
So, we've officially started Sid on his allergy shots. He's allergic to so many things that we have two different vials of serum and two concurrent dosage schedules that we alternate between. It's very complicated. Right now, he gets a shot every other day, alternating between the two serums, increasing the dosage incrementally as we move forward, until early September when the schedule just starts getting CRAZY. Then it's four days between shots, nine days between shots, six days between shots…Brian and I spent an hour the other day putting together a calendar to help us stay on track through the end of December.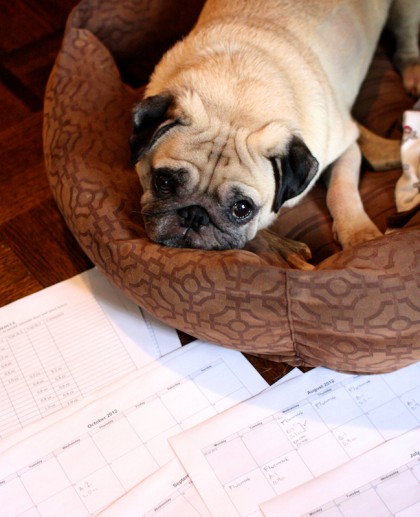 But, after completing the first two scheduled injections, I think I'm going to need to add "Jenn Spa Days" to the calendar, or perhaps invest in a bulk supply of valium. Do they sell valium at Costco? Maybe I just haven't had to do a lot of stressful things in my life, but, great holy moley, sticking your beloved pug with a hypodermic needle is STRESSFUL.
Did you get out all of the air bubbles? Did you remember to warm up the serum-filled needle by rolling it between your palms? Ack!  You didn't warm it up – what happens if you inject cold allergen serum into his little body? 
Did you hit a vein? Oh, man – you didn't think you hit a vein, but after you removed the needle there was blood in it – did you just inject allergens straight into his blood stream? What happens if you injected the allergens straight into his blood stream?  
Are you inserting the needle straight into the wad of Sid's neck scruff that Brian's gripping so that the needle is parallel to Sid's body so as to not hit anything important? I mean, you think you did, but could it've been a 10 or 15 degree angle?  What happens if you insert the needle at a 15 degree angle?  Did you just inject allergens into his spine?
Why won't he stay still?!
AM I HURTING HIM???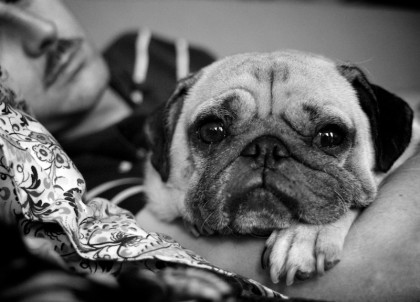 This is gonna get easier, right??
Tags: allergies, Frankie Says Relax, Sid, vet