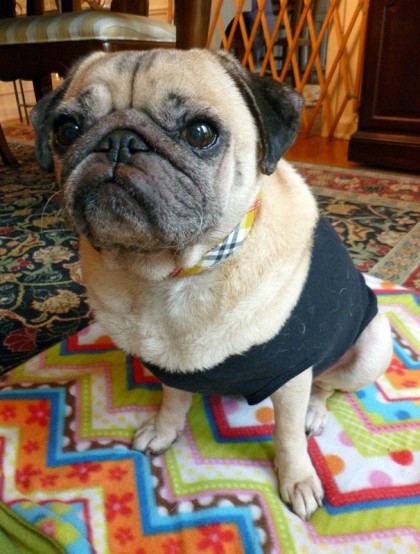 Well, I hope everyone was as fortunate as Sid this year because he got all that his heart/stomach desired and more this Christmas.
First up was a hand-made fleece blanket from his grandmother (he's sitting on it in the photo above). It's extra thick so it doubles as a play mat where he can round up his toys and partake in a good chew session. The bright colors help balance out the ho-hum grey weather we've had all December in Chicago.
Also in the photo above you might be able to catch a glimpse of Sid's new collar (look closely under the neck fat).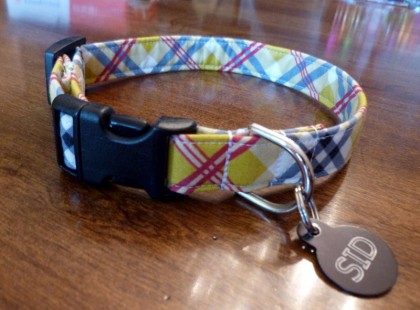 It was made by Kelly from Collars By Design. She has fantastic patterns and it was hard for me to pick out just one. The collar is really soft, sturdy, and the colors are really vibrant! I would definitely recommend her shop if you are looking for a new collar with some style.
Lastly, Sid got a Wigzi  Stuff n' Throw ball and grain-free crunchy peanut butter treats ("Tasties") to stuff inside the ball's pockets. He absolutely LOVES this thing! It's perfect for keeping him busy while I shovel down my own food.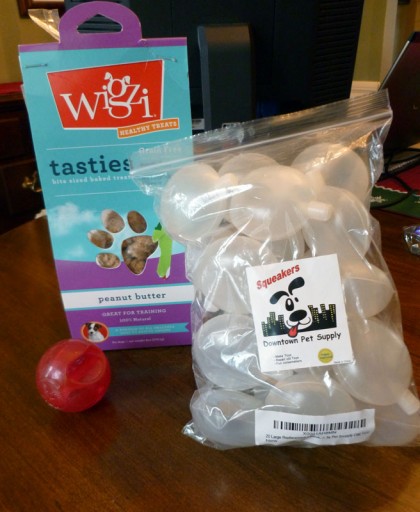 Oh yeah, and last, but not least: Squeakers.
And by Squeakers, I mean a GIGANTIC BAG FULL OF SQUEAKERS!
Whoops – I said that too loud and now Sid is staring at me expectantly.
For those of you that might not be hip to the cutting edge of pug culture, according to Sid – "Raw squeakers are the new coolest thing among pugs". You can read more on his obsession with "raw squeakers" here.
Hope you all had a great Christmas and all got some fun and tasty stuff!