We hope everyone had a lovely Christmas. Sid got a new lion stuffie filled with squeakers and was also the recipient of an unending flow of treats and snacks all weekend long. His waist quickly vanished and soon I found myself staring at a pug sausage. So after a long weekend of relaxing and gorging, we returned home and got back to our ol' brisk walk regimen. Guaranteed to remove those extra holiday inches and rolls.
Although, we were almost immediately cut short due to a dusting from Mother Nature.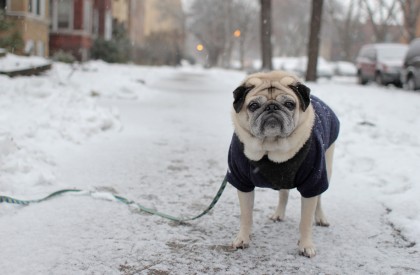 It's a little hard to strut your stuff when the sidewalk is frozen solid.
We did manage to at least get around the block, at which point Sid thought he might take refuge under a nice bush with a family of rabbits until Spring.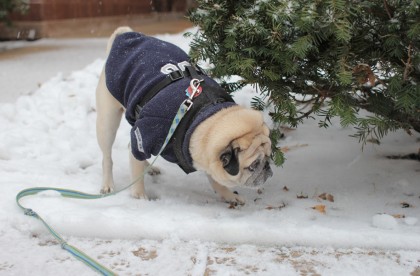 Is anyone else snowed in?