Tripod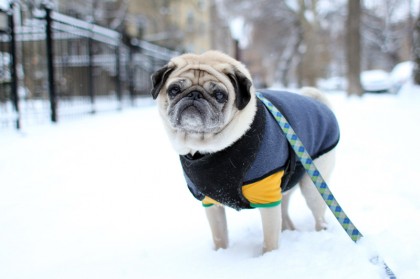 We got a decent dumping of snow over the weekend and most of it has stuck around. We're supposed to get some more tonight. It's actually really pretty. The initial snowfall is the best phase of snow, before it eventually morphs into grey piles of mush. The wonderful sight of Christmas light shining out under a thin layer of snow almost makes up for the fact that temperature is in the single digits.
Sid enjoys the snow, although when there's more than an inch or so, it gets stuck between his toes and he starts trying to walk on three legs while staring at me pathetically. I can usually appease him by holding his limp paw in my ungloved hand to melt the snow and warm his paw up a bit, but other times the only way to console him is to carry him the rest of the way home. He was born and raised in southern California so I can't fault him for having thin blood.
If it stays this cold, we're going to have to double up his layer of confidence shirts and invest in some insulated pug boots!