When the weather gets brutally cold and I find myself cooped up at home, I finally find that I have time to do those little projects that I had put on the back burner during the more pleasant summer months when all I wanted to spend every minute outside.
Today's project involved one of Sid's many beds. He was given this bed as a gift for his 7th birthday back when he called NY home. While the sturdy material the bed is fashioned from had stood up well after repeated washings and feverish digging/nesting sessions courtesy of Sid, over time the stuffing had compressed and the bed just looked flat and sad.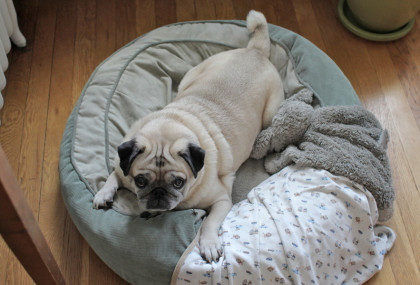 During the summer, when I got the idea for this project, I had picked up a bag of fiber fill from Joann Fabrics for this very purpose. I wasn't sure how much to get so I got a rather large bag (thinking I might eventually re-stuff one of his other beds, too!).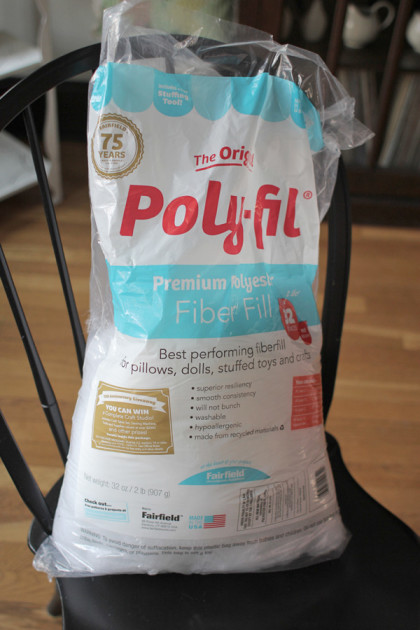 Plumping up the bed was much easier than I had anticipated. First, I took the bed to the laundromat and put it through the hot wash cycle to get it squeaky clean. I hope Sid doesn't mind that the patches of peanut butter that were mashed into the fiber are now long gone!
I then cut a hole big enough for my hand to fit into on the underside of the bed and finally got to the fun part: I just began stuffing fistfuls of the fiber fill into the bed (making sure to pack it in tightly) and distributing it evenly throughout all the nooks and crannies. As you can see from the photo above, I ended up using up over half the bag! My Sid will not stand for a saggy bolster.
Then a quick row of stitches to seal up the hole and PRESTO! Good as new! In fact, BETTER THAN NEW!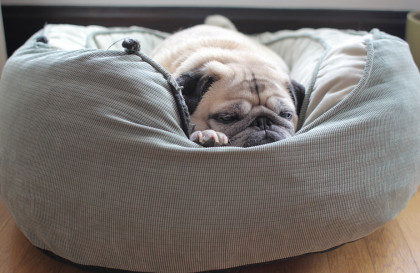 I think he likes it, wouldn't you agree?