Back Tweakin'
Hey guys! Sid with you today.
Sorry I've been away for a bit longer than usual. Life had been humming along pretty normally here at Pug Slope HQ until Saturday morning at 4am when I awoke abruptly from my sleep due to a pain in my back and neck area. It came and went suddenly. My Dad bolted up to see what was the matter and said I was just sitting on the bed frozen, like a pug statue. It was because I was afraid if I moved I might get another jolt.
He took me outside because he thought it might have been gas or something but I did my business like normal and then felt fine and plopped right back to bed.
The next day I just couldn't get comfortable. No sharp pains or anything but I just kept sitting on the edge of my bed instead of nestling down like I usually do. I was eating fine (you know something is SERIOUSLY wrong when a pug stops eating!) and had no problems walking or anything, but I was restless. In the early evening, since I wasn't really improving, my Dad loaded me up into the rental car and drove me to the emergency vet.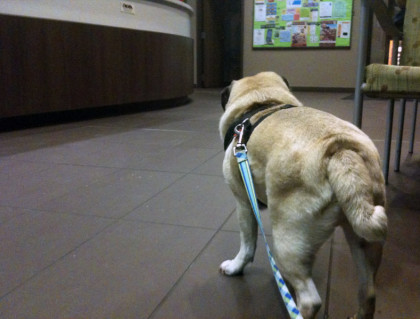 I'm sure many of you have been to a place that looked JUST LIKE THIS! I tend to get into hyper/nervous mode at the vet's office (especially the EMERGENCY vet's office) so I was pacing around, panting, and evading humans by scurrying under chairs. Notice the sad tail. Luckily, the humans there ended up being very nice and were gentle to me.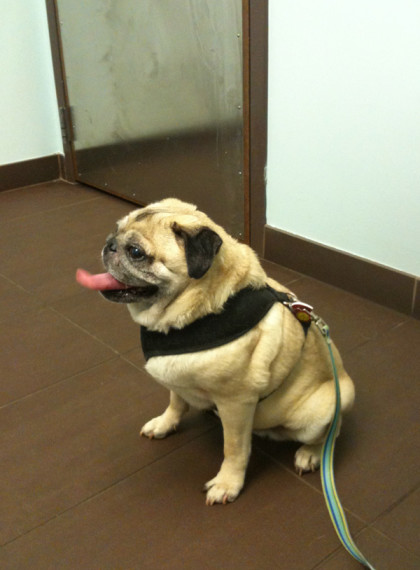 The vet lady checked me out and all my vitals looked ok. She adjusted my head and worked her fingers on my back to see if it caused me any discomfort, but I didn't feel any jolts like I did at 4am, which was good. She suspected I just tweaked my back or neck somehow (Maybe it was that bad dream I had where the grocery store ran out of baby carrots!). She gave my dad a vial of some "pug happy pills" that are supposed to help me with any discomfort for the next few days.
I do feel much better today and have been able to squish into my bed like normal, so it sounds like my back is untweaking itself. I was even able to flatten out on the floor!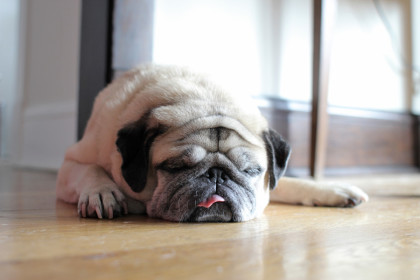 Please send me a little good pug juju if you can spare to make sure my back stays in its normal UNTWEAKED state. In fact let's never mention that awful T word again and instead focus on the good T word (the one that ends with "reat").