So we pick up today en route to Des Moines, IA. If you need a bit of back-story, check out Part 1 and Part 2. Once again, Sid found the most comfortable position for traveling. This, my friends, is how you ride shotgun!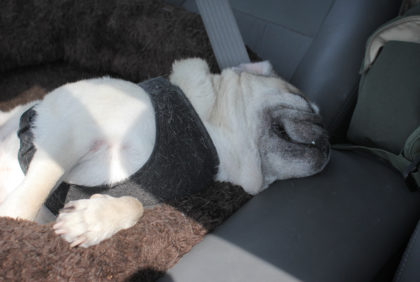 We arrived at our campsite located at the Acorn Valley Campground on Saylorville Lake. Once the tent was up Sid felt right at home. In case you can't see him in the main photo, I added a little zoom bubble so you can better make out his pug mug through the tent's screen door!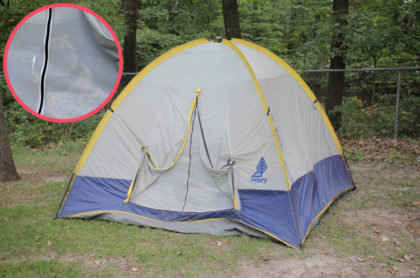 We hung out for a bit at the campsite, had some lunch, and listened to the breezes blowing through the tall trees. It was very relaxing.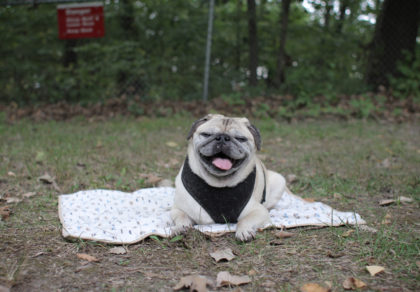 We met up with my friends and their kids for a while and they treated us to a delicious dinner made with fresh veggies straight from their back yard. We also got to visit a really nice park near their home with all kind of huge boulders and tree trunk sections for kids to play and climb on. Of course Sid didn't do any climbing, but he seemed to enjoy watching the kids play.
We had a nice sleep in our tent that evening as it was much warmer than the first night. We didn't really even need any blankets!
The next morning we made breakfast and then explored the campground a bit.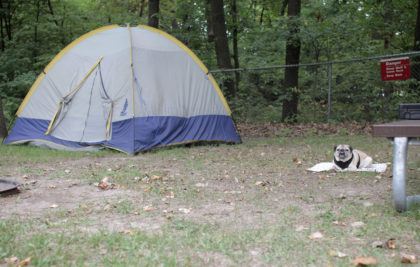 Then we packed everything up and headed into downtown Des Moines to check out the Pappajohn Sculpture Park. While waiting for my friends to arrive, we walked around near the library and found this awesome water feature that wrapped around the entire block.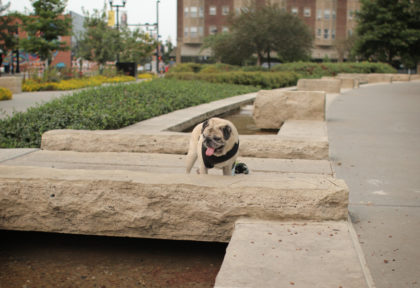 Soon my friends and their children arrived and both the kids and Sid couldn't resist sloshing through the water.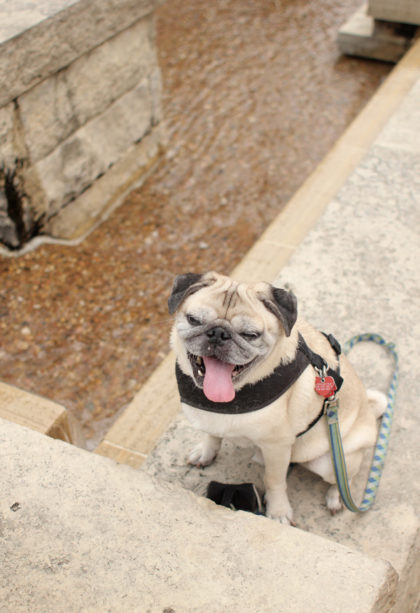 It was a good thing I had some towels in the car! After another nice afternoon visit, we loaded up the car and headed back home to Chicago.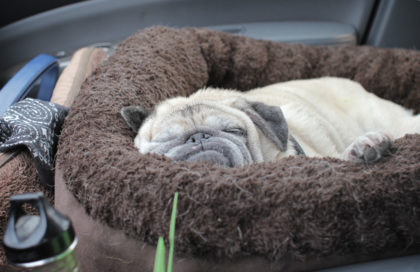 Of course our trip would not be complete with a quick pit stop at the Mississippi River!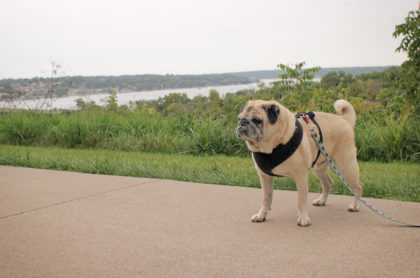 We hope you enjoyed coming with us on our camping road trip! We're looking forward to the next one!