Pug in the City – Carry On My Wayward Pug
Hey everybody!  Part Two of Sid's Manhattan adventure starts NOW:
So, Sid survived the subway, and after meeting up with Grammy Grace, Uncle Jay and Auntie Chiho in Washington Square Park, we made our way over to the West Village.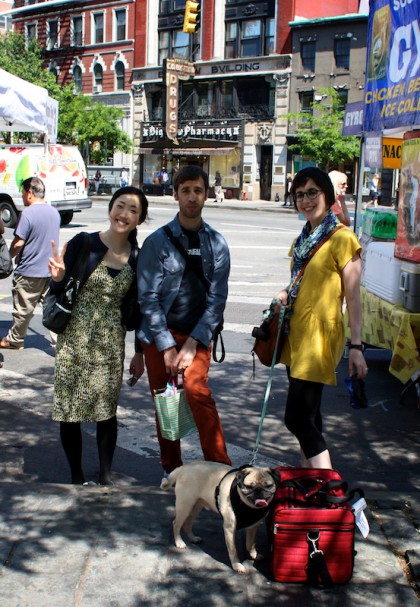 We were looking for a place to brunch, but stumbled onto a street fair / farmer's market – dangerous territory for a food-crazy pug.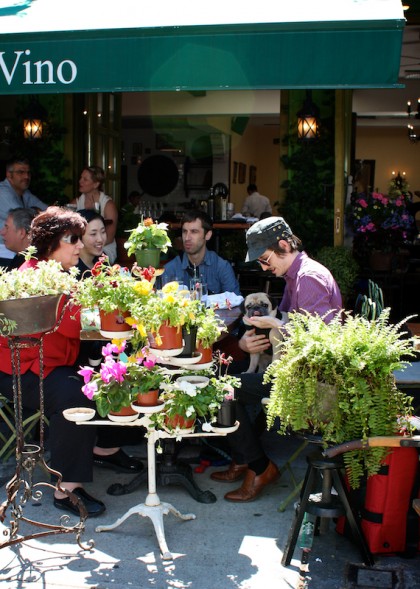 Luckily, we were able to get a table at a great wood-fired pizza place with outdoor seating before Sid noticed any of discarded churros or abandoned squash blossoms that lined the pavement around the farmer's market.  We were seated right near the sidewalk so all the passersby could see that this was the place where the cool pugs eat.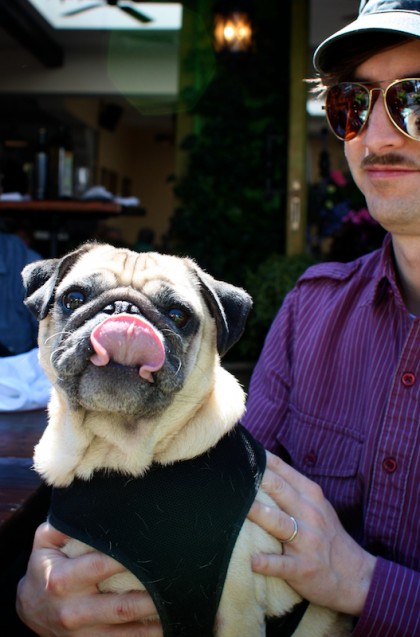 Sid's Five-star Yelp review: "OMG, I DIDN'T THINK IT WAS POSSIBLE, BUT THEIR PEANUT-BUTTER-FILLED KONG BONES TASTED JUST LIKE THE PEANUT-BUTTER-FILLED KONG BONES MY MOM AND DAD MAKE FOR ME AT HOME."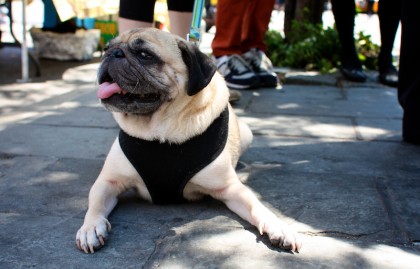 After the meal, Sid was ready for a nap, but there was still more fun to be had!  Back to Washington Square!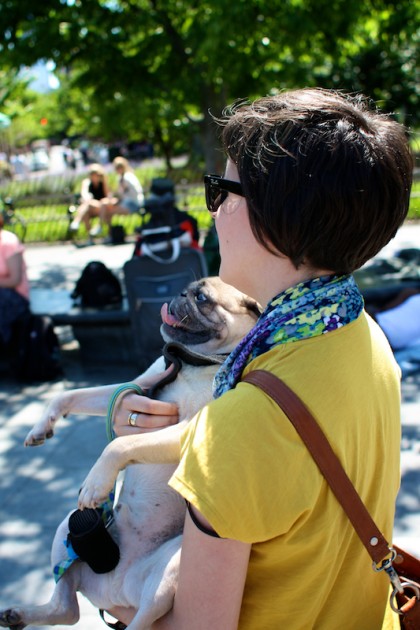 Manhattan can be exhausting.  Some tired tourists make their way through central park in a horse-drawn carriage.  Others rest their aching feet in the back of a pedicab en route to a Broadway show.
Sid gets carried around Greenwich Village by his mother.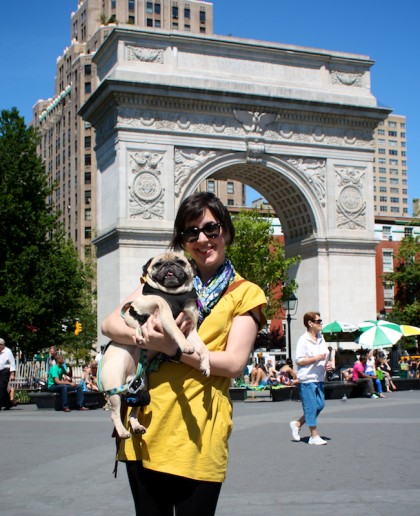 Yup.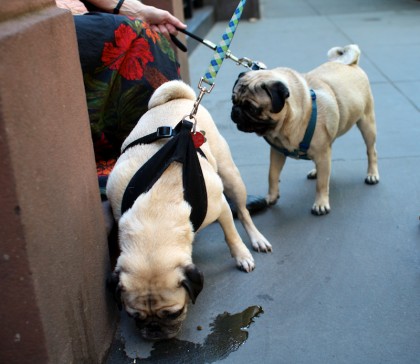 It's okay, though, because he needed the rest.  See, he met a new friend out on the street, and his friend told him about this "spot at the bottom of the square where all the small dogs get their ya-yas out, and it's real hush-hush, ya'see, but if you're cool and speak their lingo, you might just find yourself havin' a real good time – a real good time, if you catch my drift.  'Cause these small dogs aren't like you Brooklyn small dogs.  These small dogs live in Manhattan, the island of opportunity, the island of down is up and up is down and who's walkin' who?  That's right, Mom and Dad, I'm walkin' you.  These small dogs eat treats for breakfast, and treats for lunch, and treats for snacks in between breakfast and lunch – and for dinner?  MORE TREATS.  So if you play your cards right and do what I do, you might just get a taste of what we're cookin' out here, but just a taste, my flat-faced friend, 'cause IT WILL BLOW YOUR MIND."
Tags: Grammy Grace, Kong, Manhattan, Sid, Subway, treats, Uncle Jay and Auntie Chiho