Have Pug, Will Travel – Part 6
Everyone staying warm? We hope so! We've been having a pretty relaxing January so far. I was casually flipping through some photos on the computer last night and realized I never wrapped up our Have Pug, Will Travel trip from September (Boy, does time fly)! So here is the much-anticipated (I'm sure) HPWT finale!
(If you need to catch up with earlier installments, here's the whole kit and kaboodle.)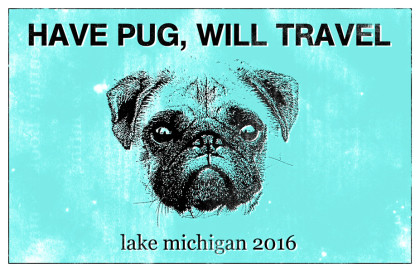 When we last left you in Part 5, Sid and I had enjoyed an evening stroll along the beachfront after a day of several amazing hikes at Sleeping Bear National Lakeshore. After a restorative forty winks in our home on wheels, we woke up the next day and made breakfast. Sid embraced his managerial role, making sure I split the blueberries evenly between us.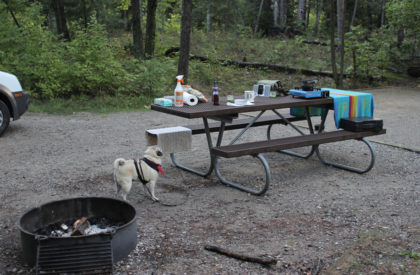 Since our campsite was so close to the beach, we took an enjoyable post-breakfast stroll in the sand.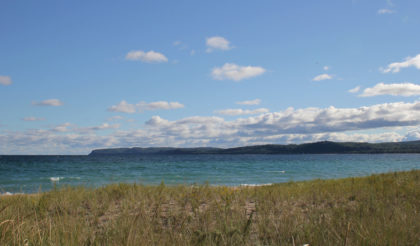 And of course we couldn't resist taking a few glamour shots.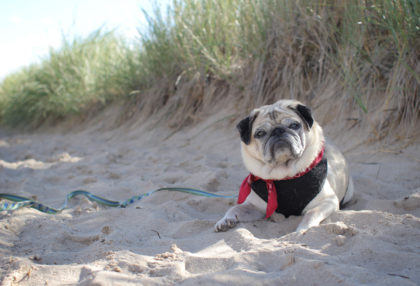 We then packed everything back up into the van and got back on the road. Our next destination was the town of Holland, Michigan. After a scenic drive along the western-Michigan shoreline, we eventually arrived at the Lake Macatawa campground located within Holland State Park. And, like most campgrounds we stayed at during this trip, we were just a short walk to the water! Time for a dip!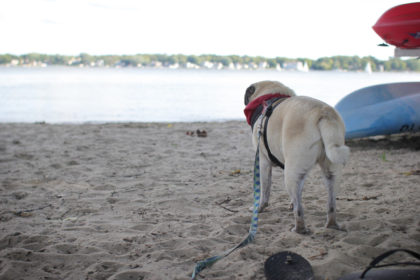 As you can see in the corner of the picture, there are kayaks for rent on Lake Macatawa, but unfortunately it was a little too late in the day by that point to rent them, so instead we headed towards downtown Holland. Our first stop was Kollen park where there were lots of people out enjoying the sunshine and warm weather.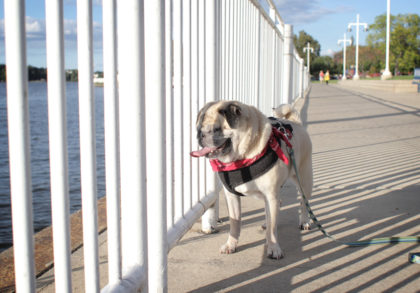 The town of Holland is very charming and we enjoyed just walking around and people-watching. The main drag, 8th Street, is lined with little specialty shops, brew-pubs, and restaurants.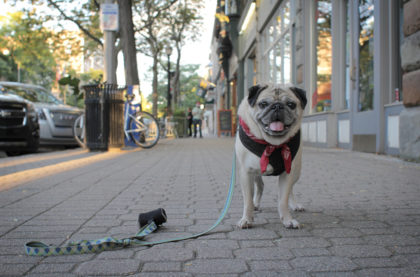 Oh, and of course DOG BOUTIQUES!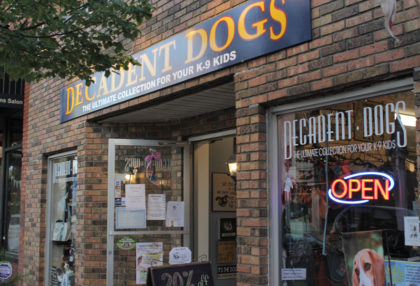 The staff at Decadent Dogs were very sweet and extremely generous with free samples of their gourmet treats, which Sid very much appreciated. They seemed to be giving Sid extra-special treatment and I didn't know why until they told me about their town mascot: a pug named Lucy. Yes, you heard me right — A PUG!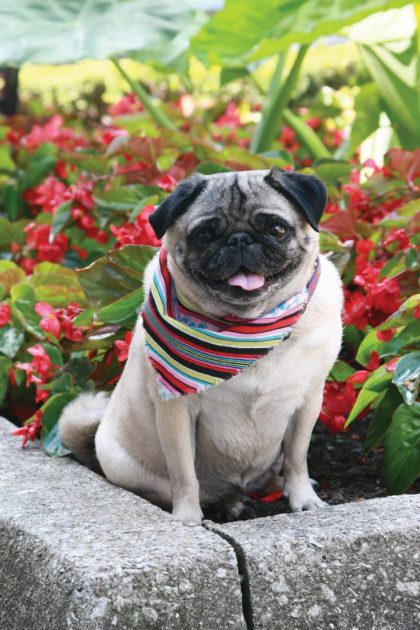 (Photo of Lucy from Discover Holland Facebook page)
Unfortunately we didn't get to meet Lucy in the fur because she was on vacation, but Sid left her a message (via "pee-mail") at her headquarters for when she returns.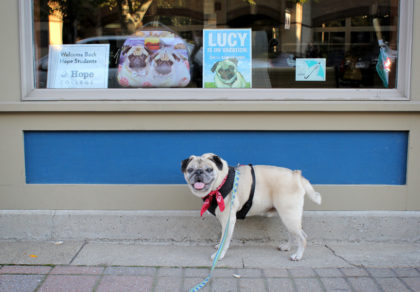 We were in our element as it seemed like everywhere we looked, the town of Holland was obsessed with pugs. Even in the old-fashioned clock shop!
After a nice afternoon out strolling through the town, we arrived back at our campsite and Sid enjoyed a few treats he picked up at Decadent Dogs. Yum!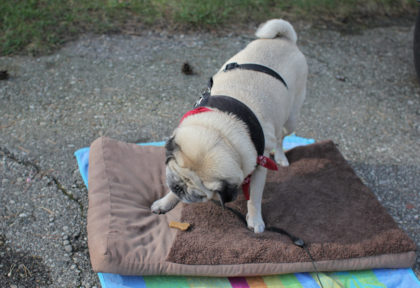 The next morning, we packed up and headed back to sweet home, Chicago.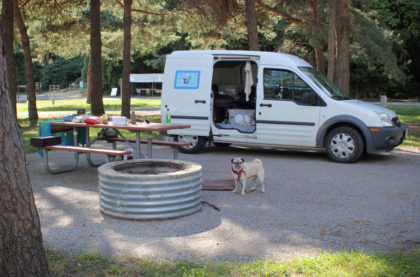 Sid and I had such a fun time on our adventure and we hope you enjoyed traveling along with us! We can't wait to make plans for our next Have Pug, Will Travel adventure!
Tags: adventure, Have Pug Will Travel, Holland, Lake Michigan, Michigan, nature, road trips, Sid, travel