Meet Jeff the Lamassu
Hi friends!
I went on a huge walk the other day to some uncharted territories and came upon a creature I'd never seen before!
A LAMASSU!
NAMED JEFF!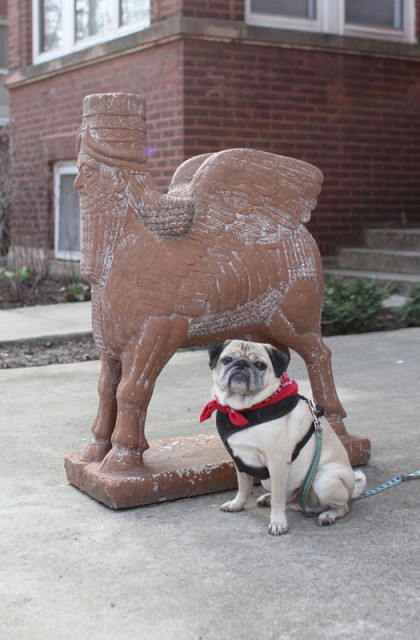 When I first saw him, I was a intimidated by his size, and all those mixed up animal parts (I didn't know if should bark at him, run away from him, or beg him for treats) but eventually I mustered up the courage to get closer for a photo op. Jeff was a pretty friendly dude and explained to me that a Lamassu is a hybrid animal consisting of the body of a bull, the wings of an eagle, and the head of a human (complete with lumberjack beard).
Anyway, it got me thinking about what other animal parts I'd like to acquire to turn myself into a SUPER HYBRID. I definitely think wings would be cool – though I think I'd go with hummingbird wings. It would take squirrel-chasing to a whole new level. I'd go with the head of something with a much bigger mouth – like a whale. That way I could gulp down my food with one bite. I think it might be cool to also get some long front arms – like from a chimpanzee. That way I could reach snacks from all those hiding placing much easier!
If you could swap some parts with another animal what would you choose and why?