Laziness Finally Pays Off
Today's lesson: Sometimes it's good to be lazy.
When the first flowers of Spring start popping up from the ground, my instinct to pack away the puffy coat, boots, scarves, and gloves kicks in. Sweaters are folded up and smooshed into storage bins and short-sleeved shirts and shorts make a reappearance. But this year, I was a little sidetracked with some other projects around the house and I neglected to put away any of the winter gear. Well, sure enough, the winter that wouldn't die made a final gasp on Monday and dumped some snow (or mini hail balls?) on us. Sid had to break out the fleece again. He was not happy.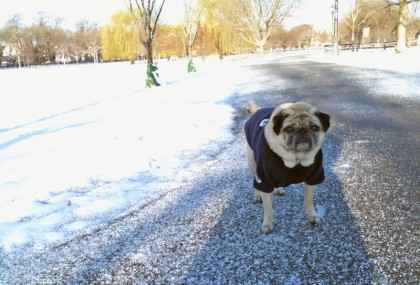 Luckily the snow didn't stick around for too long, but now I think I'll just leave all the winter stuff out until, oh, say June. Just in case.