Back to the Beach
I hope everyone had a nice holiday weekend. Friday was perfect pug weather – sunny, but with a refreshing cool breeze. I got done with work a little early, so in the afternoon Sid and I ventured east to the lake.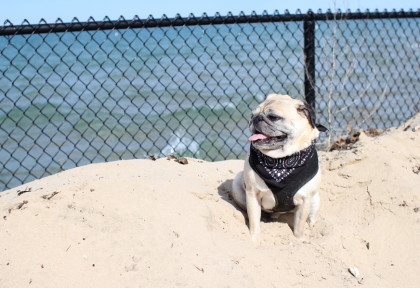 Sid must have smelled the sand and surf because as soon as we got a block away he started getting really frisky and started pulling me down the sidewalk which is out of character for him.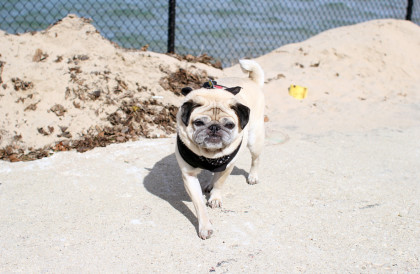 Our first glimpse of Lake Michigan occurred at our usual spot, Foster Beach. But the water level was much higher than normal and the entire "dog beach" section of the beach was under water! You see, the area BEHIND the fence is where the dog beach is normally found.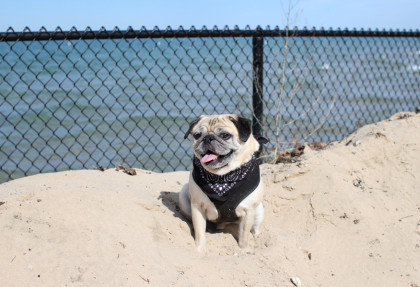 Sid was still just as excited to play in the sand on the outskirts of the dog beach as he would have on the proper dog beach. He had a riot romping up and down the little dunes.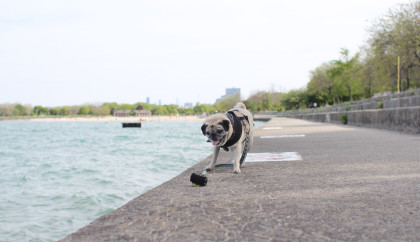 We then headed north along the concrete retaining wall. A few huge waves crashed right near us spraying us with mist – Sid could not conceal his excitement.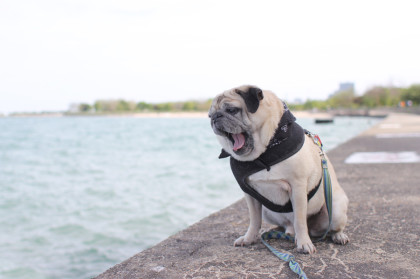 "OMG WAVES ARE THE COOLEST! WAAAAAAAAAA!"
If you've been following Pug Slope for a while, you know bodies of water of any size – from tiny puddles to massive lakes – have a mesmerizing effect on Sid. He kept intently staring at the waves bobbing and rolling as we strolled along the edge of the walkway.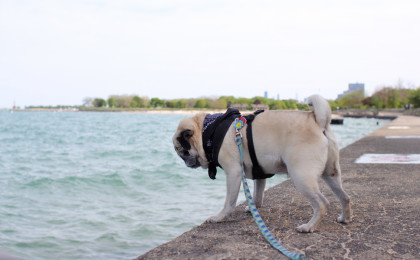 Soon, we reached the next beach, Osterman Beach.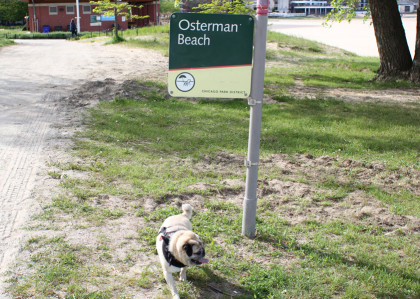 Sid had a great time running through the larger sand dunes where the grass met the sand. He was channeling his inner-puppy. I had a hard time keeping up with him!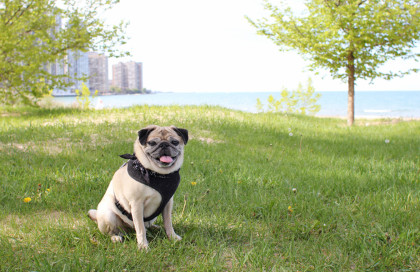 We had so much fun and plan to get to the beach more this summer!
Tags: adventure, Foster Beach, Lake Michigan, Osterman Beach, Sid, Summer