Snowless
Sid has been nagging me to change the masthead for a while now.
He said the background of hundreds of baby carrots was a mixed blessing. Yes, he LOVES baby carrots, but he said he couldn't stand to visit the blog because it always made him insanely hungry (I suspect a few of you other pug readers felt the same way). So we decided to go with our original vision of changing the masthead along with the seasons.
We headed to Winnemac Park to get an outdoor photo that would capture the season and arctic temps we've been having. Much to our dismay the weekend we picked was snowless so the photos failed to convey the "dead of winter" concept (but at least this masthead won't seem out of place come April, right?).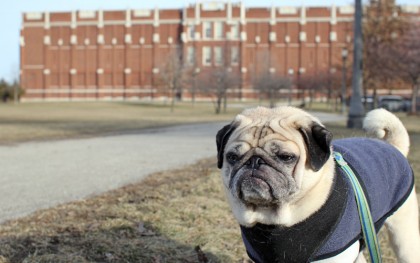 The lack of snow did allow us more time outside though as Sid isn't a fan of long walks when it's 17 degrees out and he can't get any traction on the icy sidewalks. He preferred the photo above because he has more 'tude going on. While I thought his tail did look amazing in that photo, I suggested a profile shot. I told him he would appear more "regal" in profile which instantly won him over to the idea.
What do you guys think?
P.S. Hope everyone has a fantastic weekend. Time to get out and romp around a bit, right?!
Tags: masthead, photos, Sid, Winnemac Park