Guess Who Got a New Collar?!
A few weeks ago, we were lucky enough to win a giveaway over at Urban Hounds and the prize was an accessory from P-Dawg Accessories. Since Sid already has a few bandanas from his Aunt Erin, we opted for a nice new collar.
Erika over at P-Dawg was so helpful and directed us to her fabrics that would work best for the collar. We ordered a bright green fabric with little circles that remind me of tiny cheerios (I think that's also why Sid approved of the fabric choice). Even though P-Dawg features accessories designed for bulldogs, Erika makes everything by hand and has no trouble scaling down the accessories to "pug-size".
Within a couple days Erika emailed us that the collar was finished. She sure is a whiz to be able to create a collar by hand in such a short amount of time!
Not only did the new collar arrive quickly, it also had a very cute little personalized note for our flat-faced wonder that featured a photo of Erika's bulldog, Pippa-Lou.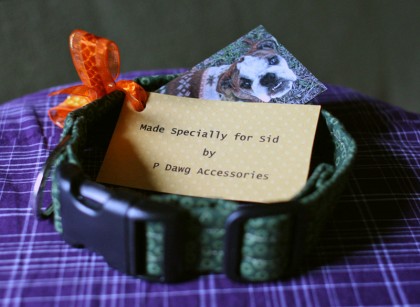 Here's a better view of the collar itself and the brightly-colored fabric.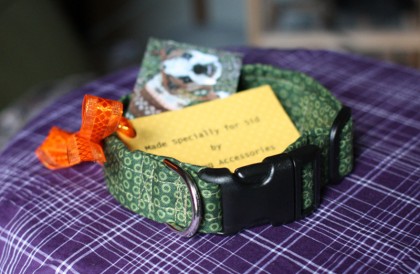 And here's our little dude sporting the new look for spring!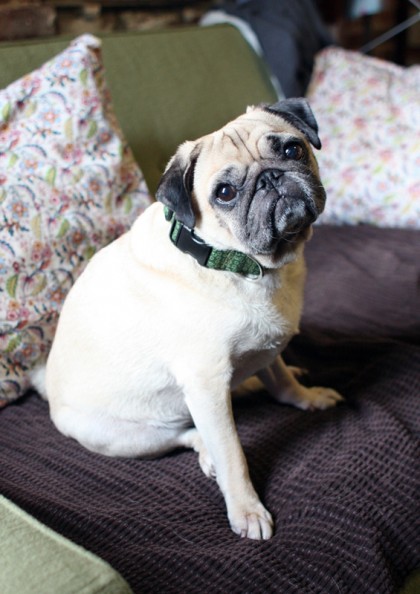 Thank you so much Urban Hounds and Erika @ P-Dawg Accessories!!!