L-O-L-A Lola!
So, while Miss Timothy Buttons was galavanting around the set of Rachel Ray, Sid was preparing the guest ela-bed for the arrival of one of his best little gal pals, Lola!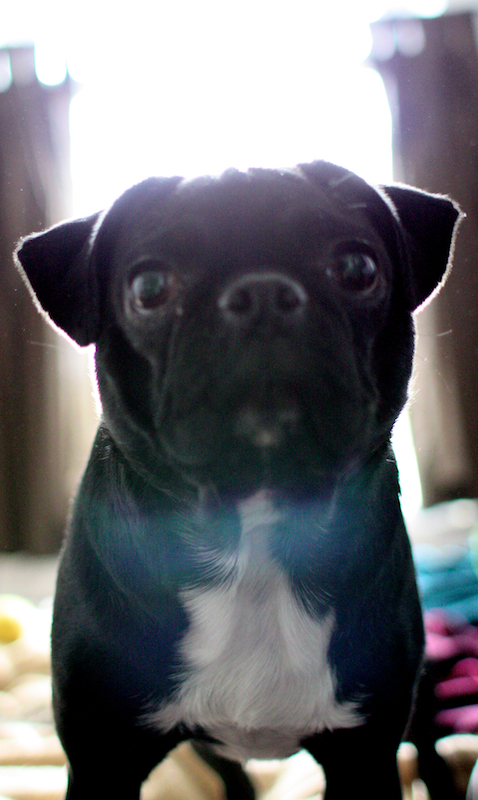 Lovely Lola spent the weekend with us while her 'rents went out of town, and as you can imagine, Sid was THRILLED to share all of his toys and beds and treats for TWO WHOLE DAYS.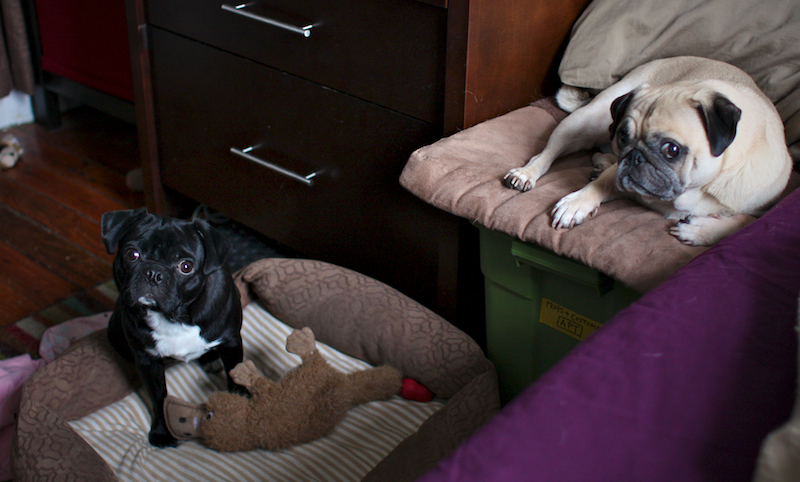 Like T-Buttz, Lola is a spunky young lady who just wants to play, play, play.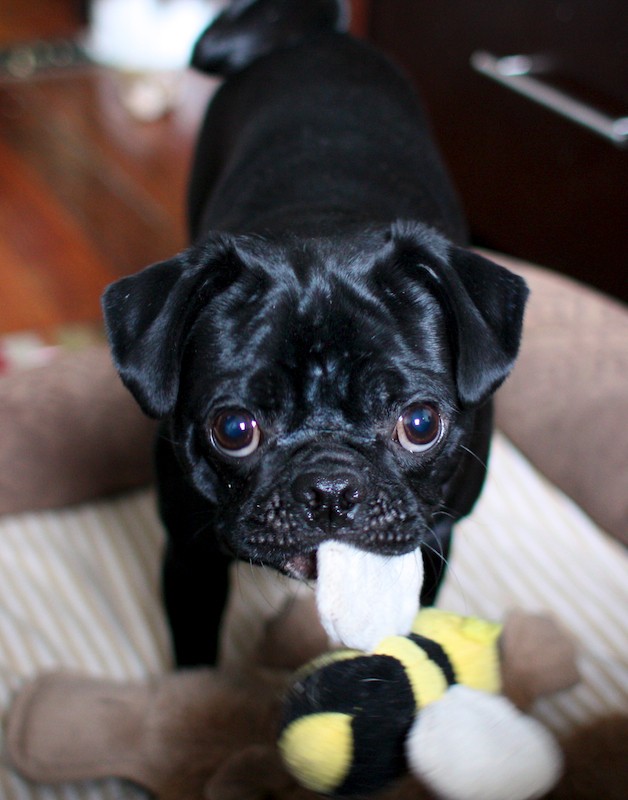 I don't know why these sweet little chicas are so keen on getting the attention of this ol' curmudgeon: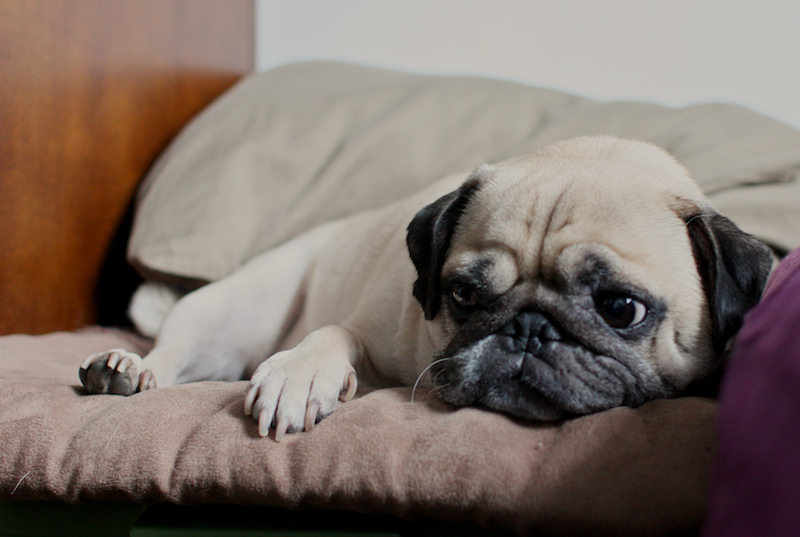 Seriously.
Lola didn't let Sid's "Donnie Downer" demeanor stop her from tryin' to have fun, though. She and T-Buttz could teach a course in determination!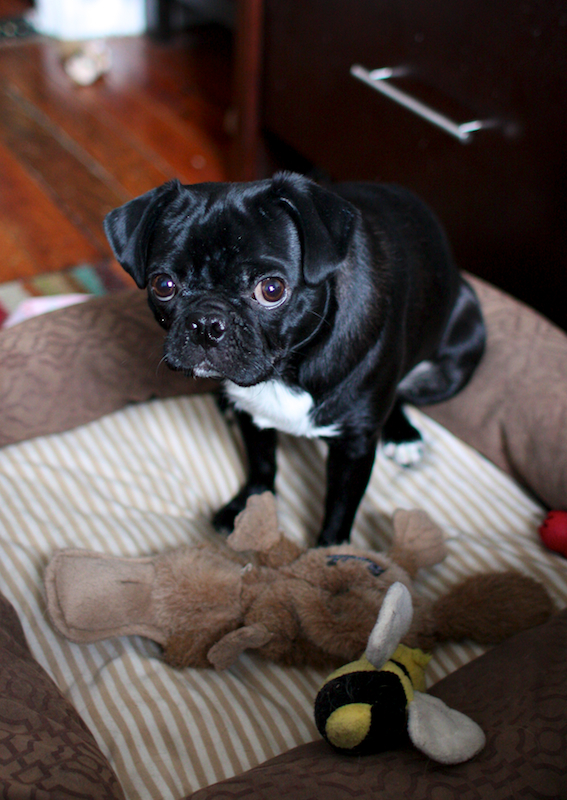 Sid, meanwhile, could teach a course on being a stick in the mud.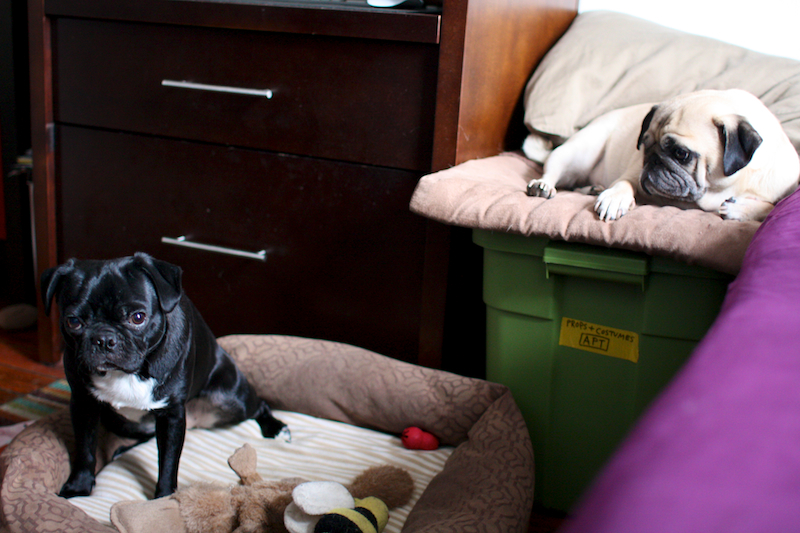 Yup, Sid, woe is you.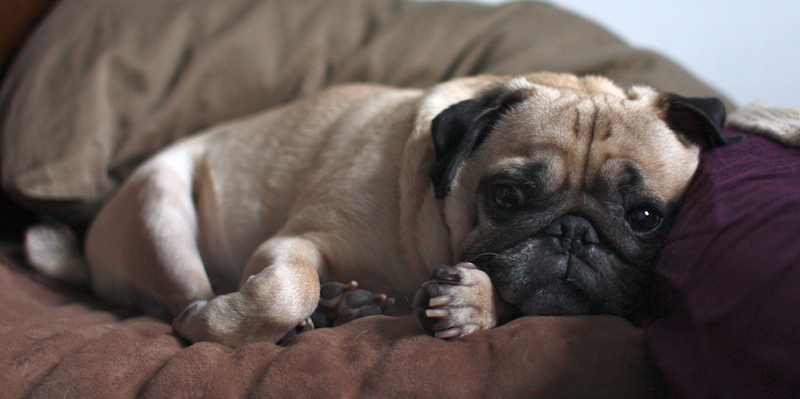 Okay, full disclosure – these photos are from, like, hour 53 of Lola's visit, so I can forgive Sid's lack of enthusiasm.  Overall, I think Lola and Sid had a great time hanging out. Really!  We have more pics and videos to post throughout the week, including pics of Sid and Lola at a pug meet-up with another sweet little lady pug whose brother is a regular reader of Pug Slope – so exciting!
AND!!!
We heard back from the vet about the lump on Sid's back!  It's not a cyst, and it's not anything worse than a cyst.  Phew!  It's a fatty lipoma – a little bundle of fat tissue that Sid has apparently decided to keep around just in case we ever forget to feed him.  So, thank you again for all of the juju!!!  And now that we know Sid is okay, we're going to redirect all that super-powerful juju to anybody who just feels like they could use a little pep in their step as we round out these winter months.  Stay healthy, everybody!