The Third Coast
Ahoy there!
I'm so glad those insane thunderstorms from last week finally wrapped up on Friday. I was exhausted from being on storm watch the whole time. I hope everyone stayed safe and no one's basement flooded.
On Saturday, the sun finally decided to return to work after a week-long vacation. My dad and I went on an expedition and we ended up all the way at the Michigan Ocean. OK, well, I guess technically it's a lake but it is ENORMOUS and I couldn't even see the other side.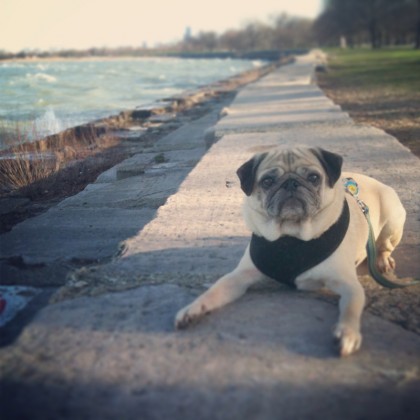 The wind was whipping around and the waves were leaping up onto the shore, but it was definitely not as scary as a thunderstorm (which I WASN'T EVEN AFRAID OF…NO, REALLY, I WASN'T. LET'S LEAVE IT AT THAT).
Oh, and the best part was that I got to go to the beach! Not just any beach but a DOG BEACH! Yeah, you heard me right. A beach devoted to us dogs. It was awesome! But I'll have to tell you more about it later this week – I gotta run now – it's DINNER TIME!
Tags: dog beach, Lake Michigan, Sid