Cashew Nut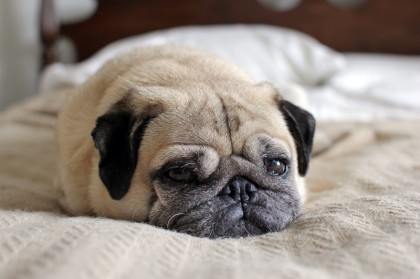 I'm not sure if it was in response to Sid's last post, but the weather certainly seems to have fixed itself this week. It's been nice and cool – perfect weather for the flat-faced. We've been able to get over to the park every day. While this means the flow of Sid's "pity toys" has stopped, I think he's genuinely excited to go to the park. In fact, whenever we leave the apartment now, he only lets me turn in one direction – TOWARD THE PARK.
We've been meeting a bunch of new friends there – both the four-legged and two-legged variety. Sid's even reached out of his comfort zone and has been interacting with non-pugs – including a "Tree Walking Coonhound". Yeah, I know it sounds like I just made that up but it really is an actual dog breed!
Hopefully this weekend we'll get a chance to take some photos of Sid hanging out with some of his pals. That is of course if he ever decides to get out of bed.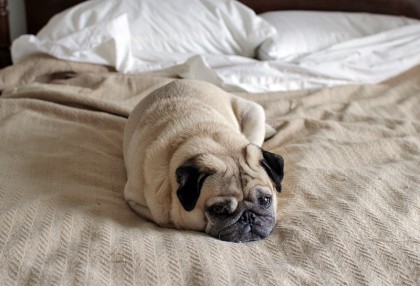 Sid's impression of a cashew nut.
Tags: cashew nut, Sid, sleepy, Winnemac Park